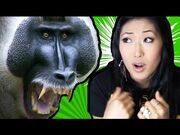 Monkeys Love Boobs
is the 142nd episode in the 
IanH 
series 
Smosh Pit Weekly
. After the first parts of the video, Mari announced that she has started a vlogging channel where she plans to post two videos a week.
Featured Articles
Youtube's Top 10 Most Viral Videos of 2013
35 Gifs That Made Us Laugh in 2013
Best News Bloopers 2013 (contains a video)
Mari's Questions
What was your favorite video from 2013?
Would you rather be forever famous for: Being a meme/ A fail Gif of you/ Starring as the lead twerker in Miley's videos?
If you were recognized on the street for saying the words "I have herpes in my mouth hole" on air as a news caster, would you: quit your job/ Rock the shit out of your news anchor job/ lie & continue kissing people in their mouth holes?
Q&A
If you had to choose an anime world to live in, what would it be? Ghost in the Shell because she would want to be a cyborg, but wouldn't want anyone hacking into her brain.
Ad blocker interference detected!
Wikia is a free-to-use site that makes money from advertising. We have a modified experience for viewers using ad blockers

Wikia is not accessible if you've made further modifications. Remove the custom ad blocker rule(s) and the page will load as expected.