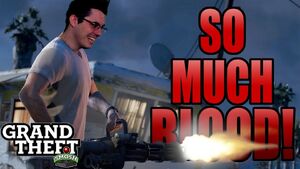 Minigun Murder Spree is the twenty-first installment in the Smosh Games series Grand Theft Smosh. Joven and Lasercorn are joined by Flitz and Wes in this episode.
Trivia
The original title of this video was "Our Guns Aren't That Mini" and it's still present on smosh.com.
Video
Ad blocker interference detected!
Wikia is a free-to-use site that makes money from advertising. We have a modified experience for viewers using ad blockers

Wikia is not accessible if you've made further modifications. Remove the custom ad blocker rule(s) and the page will load as expected.