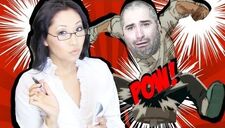 Matthew Fox is a Crotch Puncher!
is the twentieth installment of the
IanH
series
Smosh Pit Weekly
.
Featured Articles
21 Hilarious Menu Fails!
'Lost' Star Matthew Fox Punches a Bus Driver in the Junk?
25 Inspiring Courage Wolves
Rebecca Black's Awkward Sidekick Releases Her Own Single???
Question and Answer
What is your favorite Disney movie? The Little Mermaid (because she wants to be a mermaid) and Hercules (because she want a pet pegasus)
Who is favorite Superhero? A tie between Batman, Wolverine, and Stephen Colbert.
Ad blocker interference detected!
Wikia is a free-to-use site that makes money from advertising. We have a modified experience for viewers using ad blockers

Wikia is not accessible if you've made further modifications. Remove the custom ad blocker rule(s) and the page will load as expected.