Matt Sohinki
Talk

0
3,037pages on
this wiki
Sohinki



Name

Matt Sohinki

Gender

Male

Birthdate

29 August 1987

Age

27

Aliases

Sohinki, Sokinky, EndlessM1ke,

Nationality

American

Years Active

2013-Present (Sohinki)
2012-Present (Smosh Games)
2010-2012 (ClevverGames)
2010-2011 (MahaloGames)

Height

5'6"
Matthew Eric "Matt" Sohinki, also known as Sohinki, but also called "So-Kinky" by Anthony, is one of the six hosts and gamers at Smosh Games of Smosh Games. Before Smosh Games he worked at Mahalo Games and Clevver Games with Joshua Ovenshire and David Moss, both members that joined Smosh Games with him in September 2012 when Clevver merged with Smosh to create Smosh Games. Best known for his love for DOTA 2. He is good at Halo and tries to be masculine. He is also known for doing stand-up comedy and gameplay videos on his personal channel. He started his personal channel on 12 February 2013.
Show Hostings
Edit
* Button Bash
* Why We're Single
* Backseat Gaming
* Smosh Game Bang
* Smosh Games Review
* Gamer Nation
* Dope! or Nope
* Smosh Games VS
Sohinki's nickname is simply his last name, but he still gets asked about its origins.
His screen name is "EndlessM1ke" (Endless Mike), after a character from the classic Nickelodeon show The Adventures of Pete & Pete.
He is left-handed.
He is the shortest male on Smosh Games, only being taller than Mari.
Sohinki is the other Smosh Games host that is single (the other being Jovenshire)

Sohinki had a long distance girlfriend named Rebecca (aka Bexysc) who is also a gamer. She occasionally accompanied him in streams. In a Twitch livestream, it was revealed that they met playing DOTA.

As mentioned in Crashing Dem Castles, Sohinki is Jewish.
Sohinki has a love for red pandas; he said that one time when he was sick he Googled red pandas and instantly felt better as shown in this video ending
He is interested in stand-up comedy: one of his channel videos shows him performing a stand-up routine, and in a WatchUsLiveAndStuff video, Anthony mentions being invited by him to a comedy gig.
As shown in the countless dancing Game Bangs, Sohinki has been proven to be quite a good dancer, regularly being in the Top 3 for such episodes, the only exceptions being "Don't Stop The Hip Hop" and "You Can't Stop the Motion" (both of which he came 5th place in) and being 4th in "Breaking It Down In 2014." He also released a dancing video with Flitz on his personal channel.
Sohinki has been shown to have an affinity with hip-hop and R&B music, having stated that his favorite band is "A Tribe Called Quest." In some Smosh Games videos, he mentions that he likes Dubstep.

As well as this, he is seen to be a relatively skilled rapper in Epic Smosh Rap Battle (despite receiving a low score).

Anthony mentions in Like a Surgeon that Sohinki has a brother who is a doctor.
Along with Anthony, he seems to be one of the most balanced players in Game Bangs. All other players have a certain weakness or weaknesses:

Jovenshire: Karaoke games and Kinect games
Mari's weaknesses: Any games that don't involve dancing
Lasercorn's weakness: Dancing games and obscure games
Ian's weaknesses: Platformers and (occasionally) dancing games

Sohinki is the youngest member of the Clevver Games group and the 3rd youngest in the Smosh Games crew.
Along with Lasercorn and Jovenshire, he is sometime a guest on TheFineBros's Youtubers React show.
He is the only player so far to not have an individual loss or place last in Game Bang (he did come close in Slumber Party Games, but narrowly escaped an individual punishment due to a technicality in the rules).
Sohinki currently holds the record for the highest consecutive amount of episodes without doing a punishment (18) (he did not lose an episode between Slumber Party Games and We Slaughter Helpless Critters)
On 28 March 2014, He also took the record for most consecutive wins with 5 (We Cross Swords, We Are Sweaty Women, Ultimate Pokemon Showdown, Halo Makes Us Wet! and We Slaughter Helpless Critters (28th Feb-28th Mar 2014)).
He has shown many times to do voices during games and often tends to sing which annoys the other SmoshGames crew.
Matt's father appeared in a special video uploaded on 10th June 2014 in which him and David Moss (Lasercorn) battle it out against their dads in a grudge match, which aired on Father's Day.
He is the only one not to have hair modification. Jovenshire had a Mohawk which was called "The JovenHawk" and Lasercorn had orange hair for a month.
He and the smosh games group have mentioned a few times that he has an anger issue.
He calls himself a "tryhard" and a "sore loser."
He loves to cuddle; he is a little cuddlebunny.
In Grand Theft Smosh, he is known for making poorly designed maps. This is a especially seen in the episode Grand Theft Karting.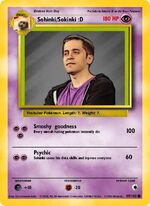 http://www.youtube.com/user/Sohinki