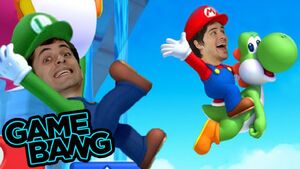 Mario is Busting Our Balls is the eighty-eighth installment of the Smosh Games series Smosh Game Bang.
It was uploaded on May 30, 2014 on both smosh.com and YouTube.
Synopsis
The Smosh Games crew play some New Super Mario Bros. U.
Punishment
The lowest scoring player will lay down holding a ball and the other five players will bounce on it.
Scores
1st place: Anthony (6 pts)
2nd place: Lasercorn (5 pts)
=3rd place: Mari (4 pts)
=3rd place: Sohinki (4 pts)
5th place: Ian (3 pts)
Last place: Jovenshire (2 pts)
Note: Two rounds finished with everyone getting 0 points.
Trivia
The punishment was Joven's idea and it turned out that he had to do it himself in the end.

Not only that, the punishment originally had him hold the ball over his stomach. However when one of the crew went to elbow-drop on him, he switched the ball to his crotch for fear of the person slipping and hitting his nuts. Ironically, the person landed squarely on the ball, hitting his nuts either way.