Mega Man X Speed Run with Game Grumps is the 2nd episode in the Smosh Games series Button Bash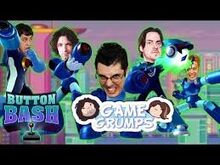 It was uploaded on July 8th, 2014 on both YouTube and smosh.com
Synopsis
Jovenshire, Lasercorn and Sohinki watch Danny and Arin of the Game Grumps attempt to beat Mega Man X in 20 minutes or less.
Trivia
Sohinki said that Mega Man 2 is the best Mega Man of all time, however Danny and Arin disagree, saying MM X is their favorite.
Sohinki revealed that his middle name was Eric in this video.

To one-up Sohinki, Lasercorn revealed that the tenth time turtles have sex their penises fall off, although he said this was a "blatant lie"