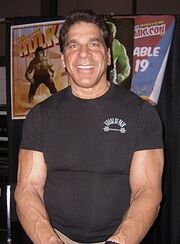 Louis "Lou" Jude Ferrigno is an American actor, fitness trainer/consultant, and retired professional bodybuilder that did an episode with Smosh. He is best known for playing the superhero the Hulk in the live-action TV series The Incredible Hulk and voicing CGI versions of the character in the 2008 film and The Avengers. He is one of the minor protagonists a Smosh video.
He appeared in "I Love Lou Ferrigno!," where he was Anthony's idol (hence the episode's title) and Anthony has an actual crush on him. He accidentally attacked Anthony with a real boulder when Lou thought he threw a Styrofoam boulder. But in "Anthony's Song for Lou," Anthony, while singing the song, says that he forgives Ferrigno for throwing the boulder at him.
Ad blocker interference detected!
Wikia is a free-to-use site that makes money from advertising. We have a modified experience for viewers using ad blockers

Wikia is not accessible if you've made further modifications. Remove the custom ad blocker rule(s) and the page will load as expected.