License Test

Released:

March 16, 2007

Views (approximate):

7,195,000+

Season:

2007

Episode:

6

Previous Episode:

Next Episode:
"License Test" is a Smosh video, uploaded on March 16, 2007.
Brief Synopsis: Anthony struggles to pass the driving test to get his driver's license.
Synopsis
Anthony drives up to the Department of Licensing for his driving test. His mother (portrayed by Ian) wishes him good luck and tries to kiss him, but Anthony refuses to let her do so. His mother gets out of the car, and a few moments later, the driving instructor (also Ian) arrives. He gets into the car and tells Anthony that before they start, he needs to test Anthony's knowledge on the car itself. First, he tests Anthony for the turn signal, then the hazard lights, but then has a laugh when he tries to test Anthony where the flux capacitor is, making a Back to the Future reference. When Anthony doesn't get it, he motions for him to start driving.
Try #1
The instructor tells Anthony to make a right, and he does. He then stops to let an old man cross the street. However, the old man was walking very slowly. After a few seconds, the instructor points out that the law says you can only stop for three seconds. Anthony tells him that the old man needs to get across, but he grows impatient and fails Anthony.
What Anthony was supposed to do:
Anthony was supposed to slowly go through the man.
Try #2
Anthony's mother tells him that a lot of people fail on their first try and wishes him luck again before she tries to kiss him. Again, Anthony refuses to let her do so, and she gets out of the car. The same instructor arrives and greets Anthony again. They start driving. Everything goes smoothly until the instructor sees babies on the road. Anthony drives into the left lane to get around the babies. However, the instructor gets angry, saying that "THIS is not England and THAT is not legal here!" Anthony reminds him that there were babies on the road, but the instructor fails him again.
What Anthony was supposed to do:
Anthony was supposed to go in between the babies on the road.
Try #3
Anthony's mother says she understands that the past few times could've been a fluke in the system, but knows Anthony will "go out there and pass the test with flying colors." She tries to kiss Anthony yet again, only for him to stop her. Anthony has the same instructor as the past two times, and everything goes well until the instructor tells him to pull over at a house. Anthony stops, and the instructor runs into the house. Gunshots and breaking glass are heard, and the instructor returns with two bags and a gun. Anthony asks what he was doing in the house, but the instructor just tells him to "punch it." During the car ride back, he discovers a gunshot wound and says that he'll be okay, but that he's going to have to fail Anthony.
What Anthony is supposed to do:
Keep driving to avoid the home invasion and not waste time asking if Ian (the instructor) is ok.
Try #4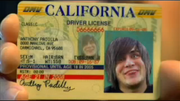 Anthony's mother angrily demands Anthony pass this time. He tries to explain why he didn't pass the previous times, but his mother cuts him off and says, "If you don't pass this time, I will f***ing kill you!". Anthony promises his mother he'll pass this time and his mother sighs frustratedly and gets out of the car, irritated with her son's constant failing. During this run, Anthony decides to correct everything that has caused him to fail before. The narrator says, "He's now wanted for four accounts of vehicular manslaughter, triple homicide and home invasion. Oh yeah, and he finally got his driver's license."
| | | |
| --- | --- | --- |
| " | *Obnoxious Laughing* SHUT UP! | " |
Trivia / Goofs
Anthony's driver's license is incorrectly signed "Anthoy Padilly."
A more modern version of Anthony's license is seen in "WORST ID PHOTO EVER!".
A newer model of Anthony's car is seen in later videos; presumably, Anthony traded it in. In some recent videos on AnthonyPadilla and IanH, Anthony's car is a Chevy Volt hybrid, although it could also possibly be Kalel's car.
The babies in the road are obviously dolls.
If one looks at the driving teacher's (Ian's) pistol in Try #3, it is a Desert Eagle. This is one of the times it appears. The other known times it's used are PLAYING WITH GUNS!, where it appears on the thumbnail and in the video. And in Banned Video where it is used by The Robber, whom Ian steals it from.
Anthony's real mom doesn't have a driving license
Gallery
Not coming at all!
Video