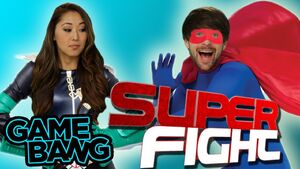 Let the Super Fight Begin! is the eighty-fifth installment of the Smosh Games series Smosh Game Bang.
It was uploaded on 9th May 2014 on both smosh.com and YouTube.
Synopsis
The Smosh Games crew, with Flitz as a guest, play card game Super Fight.
Punishment
See Our Super Fight Continues for punishment details.
Trivia
This episode had a few "firsts":

It was the first time that a seventh person (Flitz) joined.
It was the first episode to end with a cliffhanger.
It was the first time when animations were created to reflect what happened in their game.

It was the second time that a Game Bang took place in another room.
This is the second Game Bang when a video game wasn't played.

Both times a card game was played.

This is the first time Lasercorn attempts to lie in order to win a game, (saying Aquaman defeated the Hulk with a whale even though they're from DC and Marvel, respectively). The second time would be with Jovenshire in WATCH US EXPLODE, where they both claimed to win the game, even going so far as yelling and cheering when they "won".
Ad blocker interference detected!
Wikia is a free-to-use site that makes money from advertising. We have a modified experience for viewers using ad blockers

Wikia is not accessible if you've made further modifications. Remove the custom ad blocker rule(s) and the page will load as expected.