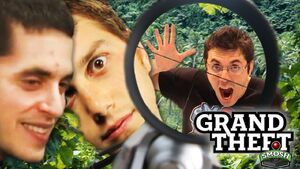 Let the Manhunt Begin is the third installment in the Smosh Games series Grand Theft Smosh.
It was uploaded on October 24th, 2013 on both smosh.com and YouTube.
Major events
The theme of the episode is manhunting (hunted person cannot use any weapon; only vehicles or punches). Jovenshire is hunted first (6:33; suicide), next is Sohinki (3:25; killed by Lasercorn), then Lasercorn (time not checked but not too long; killed by Sohinki) and last Mari (4:30; killed by Sohinki). Jovenshire won the challenge, as he had the longest time.
Mari accidentaly runs over Sohinki, resulting in a dramatic reaction (with sad music added by Wes).

Later in the video, Sohinki has his revenge as he shoots Mari just before hunting her.

Player BeckoningStream is messing with crew in this episode.

He is part of a funny scene when Jovenshire enters his car thinking he is entering Lasercorn's car.

In the last scene, Lasercorn kills Sohinki and takes his money as revenge for what happened in the previous episode.
Trivia
This is Mari's last time playing online (not in the studio).
Video
http://www.youtube.com/watch?v=cj3G2mPIDfQ
Ad blocker interference detected!
Wikia is a free-to-use site that makes money from advertising. We have a modified experience for viewers using ad blockers

Wikia is not accessible if you've made further modifications. Remove the custom ad blocker rule(s) and the page will load as expected.