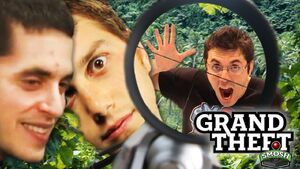 Let the Manhunt Begin is the third installment in the Smosh Games series Grand Theft Smosh.
It was uploaded on October 24th, 2013 on both smosh.com and YouTube.
Video
The video starts with Lasercorn, Joven Sohinki, and Mari getting ready for a manhunt, agreeing Joven would go first. The hunt began as Lasercorn and Sohinki started the chase while Mari struggled to follow, as Joven drove away, trying his best to survive. As time went on The Cops got involved, which made it harder to kill Joven, as Joven soon died by suicide, ending him time at 6 minutes and 33 seconds.
By this point, Sohinki killed Mari as revenge for killing him at the beginning of the episode. Right after this, Sohinki's manhunt began, with Joven and Mari slowly working their way around, while Lasercorn was hot on his trail, as Sohinki got to the airport, Lasercorn used the map to find him, and kill him, while Sohinki complained Lasercorn abused the mini-map to get him.
When Lasercorn's turn started, he got stuck, allowing Sohinki and Joven, to catch up to him, as Lasercorn jumped onto a roof, then to the ground, Joven and Sohinki followed, as Sohinki killed Lasercorn.
Mari went last, getting far away as Sohinki chased after her. During this Joven chased Lasercorn away from Mari. Sohinki didn't give up, soon running her over and killing her, allowing Joven to win the whole contest.
After this, the four messed around for a few minutes, then Lasercorn killed Sohinki, taking his money, and ending the episode.
Major events
The theme of the episode is manhunting (hunted person cannot use any weapon; only vehicles or punches). Jovenshire is hunted first (6:33; suicide), next is Sohinki (3:25; killed by Lasercorn), then Lasercorn (time not checked but not too long; killed by Sohinki) and last Mari (4:30; killed by Sohinki). Jovenshire won the challenge, as he had the longest time.
Mari accidentaly runs over Sohinki, resulting in a dramatic reaction (with sad music added by Wes).

Later in the video, Sohinki has his revenge as he shoots Mari just before hunting her.

Player BeckoningStream is messing with crew in this episode.

He is part of a funny scene when Jovenshire enters his car thinking he is entering Lasercorn's car.

In the last scene, Lasercorn kills Sohinki and takes his money as revenge for what happened in the previous episode.
Trivia
This is Mari's last time playing online (not in the studio).
Video
http://www.youtube.com/watch?v=cj3G2mPIDfQ