Krogzilla
is the main star of
Krogzilla
on
Shut Up! Cartoons
.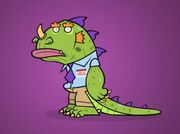 KroguGoji
Krogzilla is a sea monster that was born in a volcano at the edge of the world, measuring 200 feet tall. When he was at war with the folly of man, they nearly destroyed him and the change unemployed him. Which forced him to get a job like a human in America, where he met his best friend Marcus from a fast-food restaurant in the mall. Though Krog was shrunk, his arch-nemesis Regurgitor has been getting more fame than Krog is.
Various Jobs:
These are the various jobs that Krogzilla took but possibly failed:
Big Dogs (Hot Dog Restaurant)
Mall Ice Cream Kiosk
Building Design/Architect
Movie Theater Usher
Party Marty (Kid's Brithday Entertainer)
Pet Store Worker
Teacher
Price Bombers (Sam's Club-like store)
Tearing down old buildings
Audition for a character on Pubertina
Trivia
Ad blocker interference detected!
Wikia is a free-to-use site that makes money from advertising. We have a modified experience for viewers using ad blockers

Wikia is not accessible if you've made further modifications. Remove the custom ad blocker rule(s) and the page will load as expected.