"Hopefully the dragon will be distracted with mulling them and won't notice you hacking it to death."
— Lasercorn as Jovenshire and a group of NPCs head out to fight Alduin

KILL ALDUIN'S DRAGON BALLS is the twelfth episode of the Smosh Games series Boss Fight of the Week. This episode, Lasercorn and Jovenshire take on Alduin from The Elder Scrolls V: Skyrim.

It was released on December 13, 2012 alongside the Smosh Games Review episode LOTR GUARDIANS OF MIDDLE EARTH REVIEW.
Description
Skyrim's Alduin goes toe to toe vs Lasercorn and Jovenshire
Check out the first time Lasercorn played Skyrim
http://youtu.be/3RhwThmoc_c
The Boss
Alduin, the World Eater, also considered an alternative name of Akatosh by some of Tamriel, is a dragon and the primary antagonist of Skyrim's Main Quest. He is considered the "wellspring" of the Nordic pantheon, as well as the harbinger of the apocalypse. He is also described as the "creator of dragon civilization" in one particular text.
Synopsis of the fight
Attempt #1
Jovenshire explains to Lasercorn, who is playing, that he is a place akin to Heaven and that he must walk up to an NPC Lasercorn said resembles a male stripper and fight him, as the NPC (whose name is Tsun, the ancient god of trials against adversity) is guarding the Hall of Valor. Lasercorn tries to avoid the fight by shooting Tsun from afar in the balls, which damages him but alert him of Lasercorn's presence. Tsun rushes to Lasercorn, battle axe in hand, and swings, but misses. Tsun ends up trapped behind a rock and Lasercorn starts to shoot arrows at him, but Tsun releases a Shout, knocking Lasercorn back.
After fighting Tsun some more, Lasercorn retreats behind a rock and heals himself. Tsun finds him and the two continue to fight. Lasercorn takes heavy damage and retreats again, shooting arrows at Tsun until he is defeated, earning admittance to the Hall of Valor. Joven and Lasercorn joke about the sudden change in Tsun's behavior as Lasercorn crosses the whalebone bridge. As Joven introduces the Hall of Valor to Lasercorn, Sohinki briefly peeks his head onscreen. Lasercorn did not have much time for interaction with the other NPCs in the Hall of Valor before they all draw their weapons (Lasercorn initially mistakens this for hostility) and head out to fight Alduin. At this point, Jovenshire takes over.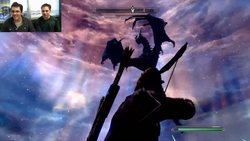 As Joven and the other heroes cross the whalebone bridge to take on Alduin, Lasercorn jokingly mentions how NPCs do not typically fare well against bosses such as dragons. The group releases collective Shouts to clear the mist. After it clears, Alduin shows up and begins breathing fire upon the grassland. Joven tries shooting arrows while Alduin is distracted with other NPCs (including one unfortunate hero who was caught in a particularly hot inferno).
Joven summons a storm to help put out Alduin's fires and strike the dragon with lightning. Alduin, finally paying attention the Joven, unleashes fire at him and sets him ablaze, but Joven manages to put out the flames engulfing him, but not before he takes serious damage. At this point, Joven and Lasercorn are doubting the effectiveness of just a bow against a dragon as Joven narrowly avoids being set on fire again. Joven comes across the corpse of an NPC recently killed by Alduin, which lowers his morale a bit. One of the few remaining NPCs, who was standing near Joven, releases a Shout at the dragon, causing him to unleash a huge inferno in Joven's direction, setting him on fire again. Joven heals himself, but is hit with more flames as soon as he is finished, so heals himself again, but was not able to heal himself as much as before. Joven tries various spells and potions to try and heal himself as quick as possible. Lasercorn points out that Alduin attacked Joven the last time he tried to heal himself, and coincidentally Alduin attacked and finally killed Joven with one last inferno.
Attempt #2
As they wait for Alduin to appear, Joven and Lasercorn talk about the purple mist. When Alduin does appear, Joven is in the path of his first attack and is immediately set on fire again. Joven runs around, trying to dodge Alduin's attacks. When Alduin lands on the ground, Joven begins hacking at the dragon with his sword until Alduin opens his mouth and unleashes a straight blaze of fire at Joven, who pauses the game and goes into his inventory right before he would otherwise be killed. Lasercorn points out that Joven should be drinking his Potion of Resist Fire. Joven takes two of those, as well as a Potion of Ultimate Healing.
Joven unpauses the game and survives the attack and strikes Alduin a couple more times before the dragon takes off. Alduin soon lands again and Joven runs toward him and begins striking the dragon as many times as he can. Alduin takes off and begins burning Joven with more fire. Initially Joven is reluctant to use more Potion of Resist Fire, but quickly changes his mind when he sees how quickly his health is being drained. Joven takes a Potion of Invisibility and continues to hack away at Alduin every time the dragon lands. Joven regrets using the Potion of Invisibility, as it was not much of a help.
When Alduin flies into the sky again, Joven runs behind his "hiding rock" but is struck by two comets, forcing him to come out of hiding. Fortunately, Alduin has landed again, and Joven hacks away at the dragon some more. By this point, Alduin has lost almost all of his health. Lasercorn encourages an excited Joven to finish Alduin off. Joven strikes Alduin until the dragon is defeated. Joven continues to hack at Alduin, despite the dragon cursing in Dovahzul, about to die. Jovenshire and Lasercorn watch as Alduin's body explodes, followed soon by his soul.
Strategy Recap
According to Lasercorn and Jovenshire, one must do the following things to defeat Alduin:
SKIP THE JIBBA JABBA
CLEAR UP DRAGON FARTS
KEEP MOVING
DRAGON BALLS?
Trivia
When Sohinki peeked his head onscreen, a pair of boobs were edited onto his face.
At the end of the video, the camera zooms in on Joven and Lasercorn making creepy stares, technically making this the first (albeit unnamed) appearance of the Laser stare.
Ad blocker interference detected!
Wikia is a free-to-use site that makes money from advertising. We have a modified experience for viewers using ad blockers

Wikia is not accessible if you've made further modifications. Remove the custom ad blocker rule(s) and the page will load as expected.