Kalel Cullen
Talk

8
3,137pages on
this wiki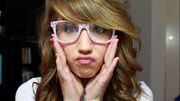 Kalel Cullen (born 30 March 1989; birth name Kristen Smith) is Anthony's ex-fiancé.
They became engaged on 29 June 2013, but released a break-up video on December 4th 2014, stating that they would remain friends.
Kalel is only in three Smosh videos: "HOW TO DUMP YOUR GIRLFRIEND!" as Anthony's new wife, "POKEMON IN REAL LIFE 4!" & "If Video Games Were Real 2" as the in-suit Jigglypuff.
Personal life
Kalel met Anthony in 2010 at a party, and after a month of being friends, they started dating on 10 October 2010. They live together in LA along with their cats Kabuki,Pip and Mogwai.
Kalel posted beauty videos on her former YouTube channel QueenBeeuty.  In her last QueenBeeuty video, she announced she would no longer make beauty videos but post a video once or twice a month on her new channel Cozplai, where she would be posting tutorials showing how to make cosplay costumes for her favorite characters. Cozplai didn't receive more than 100,000 subscribers during its running period.
After a few months of Cozplai, Kalel felt that the channel was too much work and did not like the idea of putting on makeup on camera, and decided to start a new channel called WonderlandWardrobe in between September and October 2012, consisting of DIY, vlogs and fashion videos. By June 2013, the channel reached 400,000 subscribers. However, sometime after, Kalel decided she wanted to pursue her dream of becoming a fashion designer, therefore wouldn't have time to post videos to her channel. Then, she revealed that she would be starting a new channel called WatchUsLiveAndStuff with Anthony, which consisted of vlogs, tags and challenges posted almost daily. After only one and a half months of starting, with 45 videos, the channel had already reached 500,000 subscribers. 
Whilst on vacation in Japan with Anthony, he proposed to Kalel while recording a vlog after nearly 3 years of dating ("A Romantic Day in Japan").
On December 4, 2014, she and Anthony publicly announced that they had broken up because they haven't been able to see eachother for a month.
Facts
Kalel and Anthony are good friends with Felix (PewDiePie) and his girlfriend Marzia (CutiePieMarzia)
For about 10 months, Kalel had dyed her hair a bluish iguana green (eventually with purple).
Kalel was good at math in her freshmen and sophmore years of high school, but not so much in her junior and senior years.
On her QueenBeeuty channel, Kalel lied about her being in her third year of college, she was only in her first semester. She said she lied about this because she wanted to be a role model for her viewers.
She changed her name to Kalel Cullen when she was 18 because she felt her name didn't fit her.
She was once good friends with Melanie Moat, Ian's ex-girlfriend. However, she recently revealed on twitter that they were no longer good friends.
Her former roommate is JoeyGraceffa.
She previously used to live, and is still good friends, with Andrea from AndreasChoice.
Her best friend is her cat Kabuki.
Anthony is her best friend too.
She is a fan of American Horror Story.
She changed her name to Kalel after Superman's real name Kal'El.
She is a big fan of Superman.
She mainly uses MAC products.
Her style / fashion sense has changed continuously over the years.
During QueenBeeuty, she constantly dyed her hair different colors.
She and Anthony have been dating since 10/10/2010.
On her engagement ring, the roman numeral X (10) is engraved to symbolize that they started dating on 10 October 2010.
She cannot bare to be on vacation for more than 5 days because she does not like leaving Kabuki, although this does appear to have changed, as her and Anthony are currently on a 10 day vacation across Western Europe.
She is a big fan of Animal Crossing,
She has a Pikachu 3DS.
She loves Pokemon (a trait she has in common with Anthony.
As of 2013, her style is very girly and cute (Kawaii).
She and Anthony had been wanting to go to Japan together since they first started dating.
In August 2013 they got a new cat - Pip , which is the same breed as Kabuki (savannah cat).
As of 2013, Kalel has started to eat vegan, although she has since become simply a vegetarian as she was finding it too hard to give up dairy products.
Anthony eats vegan around Kalel to support her.
As a kid, she collected American Girl dolls.
They are planning to get married on 10 October 2015, which will be their 5th anniversary.
As of 2013, she has started a new blog named Frilly and Fancy
As of 26 May 2013, she has appeared on two Smosh Games videos (Minecraft Hunger Games and Minecraft Revisited (both I Have a Raging Bonus))
She and Anthony have made appearances in the Fine brothers series YouTubers React.
She voiced herself in the Smosh Babies episode Lost in the Toy Aisle.
Gallery
Coming soon!
External links