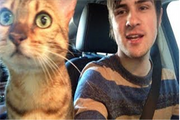 Kabuki
(often shortened to "Buki") is
Kalel
's cat. She is sometimes seen on Anthony's personal YouTube page (AnthonyPadilla) and Kalel Cullen's, formerly their shared channel (WatchUsLiveAndStuff).
Bio
Kabuki "Buki" is Kalel Cullen's Savannah breed cat. She seems more attached to Kalel than Anthony. She is four years and three months old, born on November 17, 2011. She appeared in almost every video on WatchUsLiveAndStuff.She now resides only with Kalel once more, due to Anthony and Kalel's break up in early November 2014.
Ad blocker interference detected!
Wikia is a free-to-use site that makes money from advertising. We have a modified experience for viewers using ad blockers

Wikia is not accessible if you've made further modifications. Remove the custom ad blocker rule(s) and the page will load as expected.