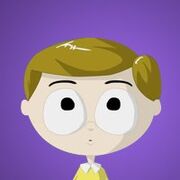 James "Jimmy"
is one of the main characters in
Do's & Don'ts
.
First introduced in Hiding a Body, he is usually the one who asks the question or has the problem that starts the episode. He seems to be good friends with LeBarbeque and Susie. He hates Susie's dog and kills it in Ritualistic Sacrifice to finish his science project in time.
Ad blocker interference detected!
Wikia is a free-to-use site that makes money from advertising. We have a modified experience for viewers using ad blockers

Wikia is not accessible if you've made further modifications. Remove the custom ad blocker rule(s) and the page will load as expected.