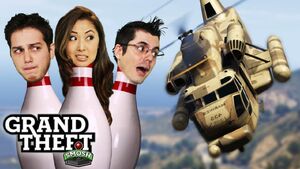 Ian Comes in Like a Wrecking Ball is the thirty-first installment in the Smosh Games series Grand Theft Smosh.
Video description
Guess who's back. Back again. Ian's back. So bring a friend... and watch this week's Grand Theft Smosh. Ian brings the crew to a skyscraper then tries to bowl them off using his helicopter. But then it's time for revenge as they gang up to take Ian down.
Synopsis
(incomplete)
The video opens with the Grand Theft Smosh screen and then begins with a man showering and Ian shown playing on the bottom right of the screen, pretending to be attracted to the character. He then addresses the audience and the conception that the character he is playing is Mari's.
Trivia
On smosh.com it was released as "Bowling for Smosh Games Pin Heads".
Screenshots
Video