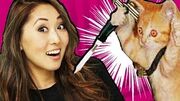 Hiding Bodies is... Adorable?
 is the 149th episode in the 
IanH
 series 
Smosh Pit Weekly
. 
Featured Articles
Hilarious FROZEN Song Parody --"Will You Help Me Hide A Body?"
Official Blooper Reel for 'The LEGO Movie'
AMAZING ALPHABET TONGUE TWISTER RAP
Mari's Questions
What do you think about "Do You Want To Build A Snowman?"
If you could build a fictional realm all out of LEGO blocks, what would you build?
Would you rather be the world's fastest rapper or the world's fastest wrapper... of presents?
If you could comunicate with one species of animals, what type of animals would you choose?
Q&A
"Do you like lice or rice?

I like lice."
Ad blocker interference detected!
Wikia is a free-to-use site that makes money from advertising. We have a modified experience for viewers using ad blockers

Wikia is not accessible if you've made further modifications. Remove the custom ad blocker rule(s) and the page will load as expected.