HOW TO GET A GIRLFRIEND

Released:

October 9, 2015

Video Length:

4:24

Views (Approximate):

6,000,000+

Season:

2015

Episode:

51

Characters Featured:

Anthony Padilla, Courtney Miller, Sergeant Anous, Keith Leak, Michelle Obama, Army General, Shayne Topp, Dad,

Previous Video:

Next Video: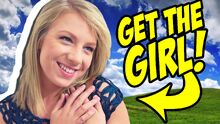 Not to be confused with HOW TO GET A GIRLFRIEND (The Show w/ No Name) an episode of The Show That Has No Name!.
HOW TO GET A GIRLFRIEND is a Smosh video released October 9, 2015.
Plot
Having trouble getting a girlfriend? Follow these simple steps and you'll be on your way to finding the woman of your dreams! Yay!
Reality
The advice in this video is actually misleading and can get the viewer who believes that stuff into trouble.
It is not against the law for having trouble asking girls out on dates. However, it is against the law to kidnap, sexually harass, and/or stalk someone.