HOW TO GET A GIRLFRIEND

Released:

October 9, 2015

Video Length:

4:24

Views (Approximate):

6,000,000+

Season:

2015

Episode:

51

Characters Featured:

Anthony Padilla, Courtney Miller, Sergeant Anous, Keith Leak, Michelle Obama, Army General, Shayne Topp, Dad,

Previous Video:

Next Video: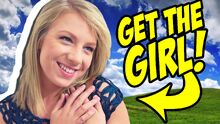 Not to be confused with HOW TO GET A GIRLFRIEND (The Show w/ No Name) an episode of The Show That Has No Name!.
HOW TO GET A GIRLFRIEND is a Smosh video released October 9, 2015.
Plot
Having trouble getting a girlfriend? Follow these simple steps and you'll be on your way to finding the woman of your dreams! Yay!
Ad blocker interference detected!
Wikia is a free-to-use site that makes money from advertising. We have a modified experience for viewers using ad blockers

Wikia is not accessible if you've made further modifications. Remove the custom ad blocker rule(s) and the page will load as expected.