HALO REACH is the 1st episode of Smosh Game Bang, hosted by Ian, Anthony, Mari, Lasercorn, Sohinki, and Jovenshire on Smosh Games. The six of them are divided into two teams and play two rounds of Halo: Reach, and the losing team gets teabagged. It was released on September 28, 2012.
Description
The entire team gets together for this weeks Game Bang w/ Halo Reach!
The teams are picked, the lines have been crossed, and the grenades have been thrown. Team Condor takes on Team....SUPER Condor during a best of 3 Oddball game.
Game Bang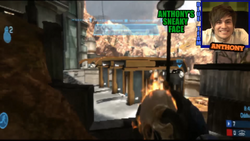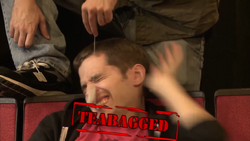 Rules
In Oddball, there is a skull in the center of the map. The goal is for one team member to pick up and hold the skull for 100 seconds. If the person is killed, the skull drops and anyone else can pick it up, getting points.
Teams
Team Condor Power (Red Team): Jovenshire, Lasercorn, and Ian
Team Super Condor (Blue Team): Anthony, Sohinki, and Mari
Results
Round 1: 100-73, Team Condor Power (Red Team)
Round 2: 100-92, Team Condor Power (Red Team)
Punishment
"In glorious Halo fashion", the losing team gets teabagged by the winning team. The losing team was not literally teabagged, instead the winning team dangled actual teabags over the losers' faces. Mari gets teabagged by Ian, Sohinki gets teabagged by Jovenshire, and Anthony gets teabagged by Lasercorn.
Game Bang Achievements
Zero Contact with Females by Lasercorn
Team Kill Those MOFOS by Mari
Awkward Silence by Jovenshire
Accidental Pause by Sohinki (as Endless MIKE)
Never Stop Team Killing by Mari
Rocket Power by Ian
Shoot Em' While They're Down by Mari
Loudly Yell Penis by Mari
Well Timed "Your Mom" Joke by Anthony
Trivia
Mari team kills one of her teammates once per round (Anthony in Round 1 and Sohinki in Round 2).
This is the first team win of Ian, Lasercorn and Joven (Team Condor).
This is Mari's first appearance on Smosh Games.
Ad blocker interference detected!
Wikia is a free-to-use site that makes money from advertising. We have a modified experience for viewers using ad blockers

Wikia is not accessible if you've made further modifications. Remove the custom ad blocker rule(s) and the page will load as expected.