Grand Theft Smosh

Grand Theft Smosh title card

Hosts

Debut

October 10, 2013 (first run)
March 13, 2017 (second run)

Channel

Episodes

152

Status

Ended

End date

October 6, 2016 (first run)
April 17, 2017 (second run)
Grand Theft Smosh was a show that initially aired on Smosh Games every Thursday. This show was originally released alongside Smosh Games Review, and later alongside PVP. During Smoshtober, the show was axed and replaced with Reality Shift, but was relaunched on March 13, 2017 as part of a 6-episode arc called Rise of the Carvengers, airing on Mondays, as MariCraft was to take a break. Maricraft returned a week after the Carvengers arc was complete, and GTS was dropped again, and it is currently unknown whether it will return again for another run.
In this show Joven, Lasercorn, Sohinki, Wes and Flitz (with fewer appearances of Mari, Ian and Anthony) play together in an online mode of GTA V.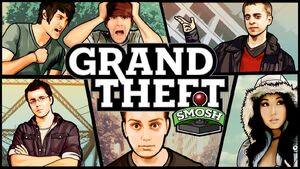 Videos
#
Name
Length
Released
1
Hijacking Cop Cars
15:08
10 October 2013
2
Hunting Mega Shark
10:33
17 October 2013
3
Let the Manhunt Begin
11:21
24 October 2013
4
Batman in GTA5 Robbery Spree
11:02
31 October 2013
5
Danger Zone!
12:02
7 November 2013
6
Top Gunning B*tches
9:24
14 November 2013
7
Tour De Forest Gump
12:51
21 November 2013
8
Trojan Horse the U.S. Military
13:16
28 November 2013
9
We Start a Gang War
10:40
5 December 2013
10
Top Fun 2, Top Funner
13:07
12 December 2013
11
We Break Into Prison
14:36
19 December 2013
12
We're Free Fallin'
7:33
26 December 2013
13
Grab His Sack and Run
7:01
2 January 2014
14
Stayin' Alive In Survivor Mode
15:37
9 January 2014
15
Five Star Strip Club
12:00
16 January 2014
16
We Hold Up The Kwik-e-mart
10:40
23 January 2014
17
Smosh Games Gets a Sugar Daddy!
14:56
30 January 2014
18
Triathlon Of Death
8:49
6 February 2014
19
Sohinki's Tower of Death
9:56
13 February 2014
20
Prison Yard Beat Down
12:54
20 February 2014
21
Minigun Murder Spree
14:09
27 February 2014
22
Smosh Games Is On Fire!
10:55
6 March 2014
23
Tanks and Dranks
13:34
13 March 2014
24
Grand Theft Mario Kart
12:52
20 March 2014
25
Dump Truck Killing Spree
13:51
27 March 2014
26
Surfing Dump Trucks
10:15
3 April 2014
27
Stealing Tanks with Jimmy Wong
12:13
10 April 2014
28
Race to the Strip Club
9:19
17 April 2014
29
Smosh Games Forms a Biker Gang
14:25
24 April 2014
30
Sexy Weekend Getaway in GTA
14:56
1 May 2014
31
Ian Comes in Like a Wrecking Ball
13:51
8 May 2014
32
Rooftop Demolition Derby
11:38
15 May 2014
33
Breaking Bad in GTA
13:27
22 May 2014
34
Jet Fighter Throwdown
10:48
29 May 2014
35
Grand Theft Karting
11:10
5 June 2014
36
Smosh Games Retires!
10:28
12 June 2014
37
Armored Truck Hunt
14:03
19 June 2014
38
How To Become a Hipster
14:05
26 June 2014
39
4th of July Monster Truck Race
11:01
3 July 2014
40
Ian's Lumberjack Retirement
12:30
10 July 2014
41
Stunt Jump Spectacular!
16:52
17 July 2014
42
Smosh Games Epic Movie Trailer
12:47
24 July 2014
43
Insane Custom Races
9:41
31 July 2014
44
Smosh Games Hit Squad
15:00
7 August 2014
45
Bus of Death
11:24
14 August 2014
46
First Annual Smosh Games Hunger Games
11:57
21 August 2014
47
We Blow Ourselves Up
12:32
28 August 2014
48
UFO Biker Gang
12:23
4 September 2014
49
5 Star Flight School
10:57
11 September 2014 [deleted]
25 September 2014 [reuploaded]
50
Pirates - For the Love of Booty
15:21
18 September 2014
51
Swat Team Go!
17:24
2 October 2014
52
Helicopter Derby
13:57
9 October 2014
53
Death Bus 2: Air Bus
16:22
16 October 2014
54
Singing in GTA Gets You Killed
13:32
23 October 2014
55
Halloween Purge in GTA
12:27
30 October 2014
56
Fashion Police Clean Up GTA
15:54
6 November 2014
57
The Choppy Chopper Game!
12:35
13 November 2014
58
First Person Top Fun In GTA 5
15:42
20 November 2014
59
Our Tankless Thanksgiving
14:09
27 November 2014
60
Stolen Jet Gang
11:38
4 December 2014
61
First Person Five Stars
15:25
11 December 2014
62
Epic GTA Bank Landing
13:48
18 December 2014
63
Seasons Beatings
12:45
25 December 2014
64
New Year's Explosion In GTA 5
12:01
1 January 2015
65
Death Bus 3: Enter the Bang Buth
14:15
8 January 2015
66
Being Super Villains In GTA 5
13:28
15 January 2015
67
Yolo Bucket List Challenge!
14:02
22 January 2015
68
Wacky Wall Race In GTA 5
13:19
29 January 2015
69
Rookie Initiation In GTA 5
13:50
5 February 2015
70
First Heist In GTA Online
15:10
12 February 2015
71
GTA Turf War With Nerdist
13:46
19 February 2015
72
Zombie Cop Won't Die
14:00
26 February 2015
73
High Flying Pool Party
17:40
5 March 2015
74
Heist Fail!
14:59
12 March 2015
75
Prison Break Heist!
11:35
19 March 2015
76
Heist Assassins!
12:24
26 March 2015
77
Epic Chopper Prison Escape
10:29
2 April 2015
78
Five Star Rock Stars
12:17
9 April 2015
79
Ian's Heist Rage
17:03
16 April 2015
80
We Suck At Stealth
17:47
23 April 2015
81
Hover Jet Shenanigans
8:48
30 April 2015
82
Taxi Ride From Hell
8:24
7 May 2015
83
Epic Drug Heist In GTA
13:55
14 May 2015
84
Power Rangers Drug Heist
11:56
21 May 2015
85
GTA Vehicle Cannon Mod
12:17
28 May 2015
86
Bullet Proof Van In GTA V
9:06
4 June 2015
87
Epic Flare Fight
10:26
11 June 2015
88
Grand Theft Dads
12:04
18 June 2015
89
Joven Quits Smosh Games
15:13
25 June 2015
90
Epic Military Raid
16:35
2 July 2015
91
Terminator: Rise of the Bronze
16:48
9 July 2015
92
Snipers vs Stunters
14:58
16 July 2015
93
Hover Jet Jousting
12:32
23 July 2015
94
Epic Movie Narration
13:04
30 July 2015
95
Killer Kawaii Girls
13:04
6 August 2015
96
Bubblegum Death Challenge
16:04
13 August 2015
97
Smosh Squad Initiation
15:31
20 August 2015
98
5 Star Summer Camp
15:24
27 August 2015
99
Nic Cage Joins The Gang
16:44
3 September 2015
100
Hydra Death Bus!
14:22
10 September 2015
101
100th Episode Hooker Race!
17:02
24 September 2015
102
Suicide Party Bus!
15:44
1 October 2015
103
We Are Emergency Services!
15:54
8 October 2015
104
Hardest Race Track Ever!
13:16
15 October 2015
105
Joven The Bronze Bomber!
15:38
22 October 2015
106
Warped Halloween Massacre
15:33
29 October 2015
107
Air Force And Chill
14:55
5 November 2015
108
Mari Gets No F*cks
16:06
12 November 2015
109
Rise Of Lady Baby!
10:00
19 November 2015
110
Hacksgiving Disaster
10:28
26 November 2015
111
Adversary Mode Madness!
15:25
3 December 2015
112
We Are Escorts!
14:18
10 December 2015
113
Low Rider Thunderdome Deathmatch!
14:40
17 December 2015
114
GTA Christmas Slaying
12:34
24 December 2015
115
New Years Death Bus Explosion
10:29
31 December 2015
116
We Terminate Each Other!
17:41
7 January 2016
117
First Annual Stripper Run!!
9:25
14 January 2016
118
Deadly ABC's
8:53
21 January 2016
119
5 Star Yacht Escape
11:32
28 January 2016
120
Knife Day At The Strip Club
19:38
4 February 2016
121
REAL LIFE MAFIA IN GTA 5
15:22
11 February 2016
122
JOVEN'S ANGELS
11:54
18 February 2016
123
JET SKI TOP FUN
15:36
25 February 2016
124
THE WORST GTA 5 RACE
13:59
3 March 2016
125
OLD FASHIONED GANGSTER HEIST
16:02
10 March 2016
126
THAT'S MY TRIGGER
12:03
17 March 2016
127
BATTLESHIP BLOOD FEUD
11:34
24 March 2016
128
CAR SUMO CARNAGE!
15:57
31 March 2016
129
ASSASSINATING THE VIP
12:42
7 April 2016
130
SKY WARS? SKY WARS!
8:49
14 April
131
COURTNEY'S DATING GAME
13:09
21 April 2016
132
NO THUMBS GRAND THEFT AUTO 5
8:59
28 April 2016
133
FREEZE TAG IN GTA 5!
14:09
5 May 2016
134
WES LIST DEADPOOL MADNESS
14:34
12 May 2016 reuploaded 19 May 2016
135
THAT'S MY TRIGGER PT 2
12:09
26 May 2016
136
EXPLODEY BIKE GAME!
9:42
2 June 2016
137
EPIC TRAIN SURFING
13:01
9 June 2016
138
WORST FIGHT EVER WITH UFC'S MIGHTY MOUSE
19:17
16 June 2016
139
DEATH AND DONUTS
14:50
23 June 2016
140
GRAND THEFT OVERWATCH
13:59
30 June 2016
141
GTA V MAFIA RETURNS
17:17
7 July 2016
142
BEAST FEAST IN GTA V
12:55
14 July 2016
143
SAVAGE CEO JOB
19:07
21 July 2016
144
Exploding Car Roulette
7:38
28 July 2016
145
Insane GTA Stunt Races!
20:27
4 August 2016
146
DEAD BY DAYLIGHT IN GTA V!
13:31
11 August 2016
147
GTA V BEAST MODE MAYHEM
13:10
18 August 2016

Appearances

| # | Anthony | Ian | Jovenshire | Lasercorn | Mari | Sohinki | Flitz | Wes |
| --- | --- | --- | --- | --- | --- | --- | --- | --- |
| Ep 1 | | - | ✓ | ✓ | - | ✓ | - | - |
| Ep 2 | - | - | ✓ | ✓ | ✓* | ✓ | - | - |
| Ep 3 | - | - | ✓ | ✓ | ✓* | ✓ | - | - |
| Ep 4 | ✓ | ✓* | ✓ | ✓ | - | ✓ | - | - |
| Ep 5 | - | - | ✓ | ✓ | ✓ | ✓ | - | - |
| Ep 6 | ✓ | ✓* | ✓ | ✓ | - | ✓ | - | - |
| Ep 7 | - | - | ✓ | ✓ | ✓ | ✓ | - | - |
| Ep 8 | - | - | ✓ | ✓ | ✓ | ✓ | - | - |
| Ep 9 | - | - | ✓ | ✓ | - | ✓ | - | - |
| Ep 10 | - | - | ✓ | ✓ | - | ✓ | - | - |
| Ep 11 | - | - | ✓ | - | ✓ | ✓ | - | - |
| Ep 12 | - | - | ✓ | - | ✓ | ✓ | - | - |
| Ep 13 | - | - | ✓ | ✓ | - | ✓ | - | - |
| Ep 14 | - | - | ✓ | ✓ | ✓ | ✓ | - | - |
| Ep 15 | - | - | - | ✓ | ✓ | ✓ | ✓ | - |
| Ep 16 | - | - | ✓ | ✓ | ✓ | ✓ | - | - |
| Ep 17 | - | - | ✓ | ✓ | - | ✓ | - | ✓ |
| Ep 18 | - | ✓* | ✓ | ✓ | - | ✓ | - | - |
| Ep 19 | - | - | ✓ | ✓ | - | ✓ | ✓ | - |
| Ep 20 | - | - | ✓ | ✓ | ✓ | ✓ | - | - |
| Ep 21 | - | - | ✓ | ✓ | - | - | ✓ | ✓ |
| Ep 22 | - | - | ✓ | ✓ | ✓ | ✓ | - | - |
| Ep 23 | - | - | ✓ | ✓ | ✓ | ✓ | - | - |
| Ep 24 | - | - | ✓ | ✓ | - | ✓ | - | - |
| Ep 25 | - | - | ✓ | ✓ | - | ✓ | - | ✓ |
| Ep 26 | - | - | ✓ | ✓ | - | ✓ | - | ✓ |
| Ep 27 | - | - | ✓ | ✓ | - | ✓ | - | - |
| Ep 28 | ✓ | ✓ | | ✓ | - | ✓ | - | - |
| Ep 29 | - | - | ✓ | - | ✓ | - | ✓ | ✓ |
| Ep 30 | - | - | ✓ | - | ✓ | ✓ | - | - |
| Ep 31 | - | ✓ | ✓ | ✓ | ✓ | - | - | - |
| Ep 32 | - | - | ✓ | ✓ | ✓ | ✓ | - | - |
| Ep 33 | - | - | ✓ | ✓ | - | ✓ | ✓ | - |
| Ep 34 | - | - | ✓ | ✓ | - | ✓ | ✓ | - |
| Ep 35 | - | - | ✓ | ✓ | ✓ | ✓ | - | - |
| Ep 36 | - | - | ✓ | ✓ | ✓ | ✓ | - | - |
| Ep 37 | - | - | ✓ | ✓ | - | ✓ | - | ✓ |
| Ep 38 | - | - | ✓ | ✓ | - | ✓ | - | - |
| Ep 39 | - | - | ✓ | ✓ | - | ✓ | - | ✓ |
| Ep 40 | - | ✓ | ✓ | ✓ | - | ✓ | - | - |
| Ep 41 | - | - | - | ✓ | ✓ | ✓ | - | ✓ |
| Ep 42 | - | - | ✓ | ✓ | ✓ | ✓ | - | - |
| Ep 43 | - | - | ✓ | ✓ | - | ✓ | ✓ | - |
| Ep 44 | - | - | ✓ | ✓ | - | ✓ | - | ✓ |
| Ep 45 | - | - | ✓ | ✓ | - | ✓ | - | ✓ |
| Ep 46 | - | - | ✓ | ✓ | - | ✓ | ✓ | - |
| Ep 47 | - | - | ✓ | ✓ | - | ✓ | ✓ | - |
| Ep 48 | - | - | - | ✓ | - | ✓ | ✓ | ✓ |
| Ep 49 | - | - | ✓ | ✓ | - | ✓ | - | ✓ |
| Ep 50 | - | - | ✓ | ✓ | - | ✓ | - | ✓ |
| Ep 51 | - | - | ✓ | ✓ | - | ✓ | ✓ | ✓ |
| Ep 52 | - | - | ✓ | ✓ | - | ✓ | - | ✓ |
| Ep 53 | - | - | ✓ | ✓ | - | ✓ | - | ✓ |
| Ep 54 | - | - | ✓ | ✓ | - | - | ✓ | ✓ |
| Ep 55 | - | - | ✓ | ✓ | ✓ | - | ✓ | - |
| Ep 56 | - | - | ✓ | ✓ | - | ✓ | ✓ | - |
| Ep 57 | - | - | - | ✓ | ✓ | ✓ | - | ✓ |
| Ep 58 | - | - | ✓ | ✓ | - | ✓ | - | ✓ |
| Ep 59 | - | - | ✓ | - | ✓ | - | ✓ | ✓ |
| Ep 60 | - | - | ✓ | - | ✓ | - | ✓ | ✓ |
| Ep 61 | - | - | ✓ | ✓ | - | ✓ | - | ✓ |
| Ep 62 | - | - | ✓ | ✓ | - | ✓ | ✓ | - |
| Ep 63 | - | - | ✓ | ✓ | ✓ | ✓ | - | - |
| Ep 64 | - | - | ✓ | ✓ | - | ✓ | - | ✓ |
| Ep 65 | - | - | ✓ | ✓ | - | ✓ | - | ✓ |
| Ep 66 | - | - | ✓ | ✓ | - | ✓ | ✓ | - |
| Ep 67 | - | - | ✓ | ✓ | ✓ | - | ✓ | - |
| Ep 68 | - | - | - | ✓ | - | ✓ | ✓ | ✓ |
| Ep 69 | - | - | ✓ | ✓ | - | ✓ | - | - |
| Ep 70 | - | - | ✓ | ✓ | - | ✓ | - | ✓ |
| Ep 71 | - | - | - | ✓ | - | ✓ | - | - |
| Ep 72 | - | - | ✓ | - | ✓ | - | - | - |
| Ep 73 | - | ✓ | ✓ | ✓ | - | - | - | ✓ |
| Ep 74 | - | ✓ | ✓ | ✓ | - | ✓ | - | - |
| Ep 75 | - | - | ✓ | ✓ | - | ✓ | - | ✓ |
| Ep 76 | - | - | ✓ | ✓ | - | ✓ | - | ✓ |
| Ep 77 | - | - | ✓ | ✓ | - | ✓ | - | ✓ |
| Ep 78 | - | - | - | ✓ | - | ✓ | ✓ | ✓ |
| Ep 79 | - | ✓ | ✓ | ✓ | - | ✓ | - | - |
| Ep 80 | - | ✓ | ✓ | ✓ | - | ✓ | - | ✓ |
| Ep 81 | - | - | ✓ | ✓ | - | ✓ | - | ✓ |
| Ep 82 | - | - | ✓ | ✓ | ✓ | ✓ | - | - |
| Ep 83 | - | - | ✓ | - | ✓ | ✓ | - | ✓ |
| Ep 84 | - | - | ✓ | - | ✓ | ✓ | - | ✓ |
| Ep 85 | - | - | ✓ | ✓ | - | - | ✓ | ✓ |
| Ep 86 | - | - | ✓ | ✓ | - | ✓ | - | ✓ |
| Ep 87 | - | - | ✓ | ✓ | - | ✓ | - | ✓ |
| Ep 88 | - | - | - | ✓ | - | ✓ | - | ✓ |
| Ep 89 | - | - | ✓ | ✓ | - | ✓ | - | ✓ |
| Ep 90 | - | - | ✓ | ✓ | - | ✓ | ✓ | - |
| Ep 91 | - | - | ✓ | ✓ | - | ✓ | - | - |
| Ep 92 | - | - | ✓ | ✓ | - | - | ✓ | ✓ |
| Ep 93 | - | - | ✓ | ✓ | ✓ | ✓ | - | - |
| Ep 94 | - | - | ✓ | ✓ | - | ✓ | - | - |
| Ep 95 | - | - | ✓ | ✓ | - | ✓ | - | ✓ |
| Ep 96 | - | - | ✓ | ✓ | - | ✓ | - | ✓ |
| Ep 97 | - | - | ✓ | ✓ | - | - | ✓ | - |
| Ep 98 | - | - | ✓ | - | ✓ | ✓ | ✓ | - |
| Ep 99 | - | - | ✓ | ✓ | - | ✓ | - | - |
| Ep 100 | - | - | ✓ | ✓ | - | ✓ | - | ✓ |
| Ep 101 | ✓ | ✓ | ✓ | ✓ | ✓ | ✓ | ✓ | ✓ |
| Ep 102 | - | - | ✓ | ✓ | ✓ | ✓ | - | - |
| Ep 103 | - | - | ✓ | ✓ | - | ✓ | - | ✓ |
| Ep 104 | - | - | ✓ | - | ✓ | - | ✓ | ✓ |
| Ep 105 | - | - | ✓ | ✓ | - | ✓ | ✓ | - |
| Ep 106 | - | - | - | - | - | ✓ | - | - |
| Ep 107 | - | - | ✓ | ✓ | ✓ | - | - | ✓ |
| Ep 108 | - | - | - | ✓ | ✓ | ✓ | - | ✓ |
| Ep 109 | - | - | ✓ | ✓ | ✓ | ✓ | - | - |
| Ep 110 | - | - | ✓ | ✓ | ✓ | ✓ | ✓* | ✓ |
| Ep 111 | - | - | ✓ | ✓ | - | ✓ | - | ✓ |
| Ep 112 | - | - | ✓ | ✓* | ✓ | ✓ | ✓* | ✓ |
| Ep 113 | - | - | ✓ | ✓ | ✓ | ✓ | - | - |
| Ep 114 | - | - | ✓ | ✓ | - | ✓ | - | ✓ |
| Ep 115 | - | - | - | - | ✓ | ✓ | ✓ | ✓ |
| Ep 116 | - | - | ✓ | ✓ | - | ✓ | - | ✓ |
| Ep 117 | - | - | ✓ | ✓ | - | ✓ | - | ✓ |
| Ep 118 | - | - | ✓ | ✓ | - | ✓ | - | ✓ |
| Ep 119 | - | - | ✓ | - | ✓ | ✓ | ✓ | - |
| Overall | 4 | 11 | 108 | 106 | 44 | 105 | 33 | 58 |

* Didn't appear in Smosh Games studio, only voice was heard

Guest appearances

GTA Online Names

Here are gamer tags of Smosh Games crew and guests in GTA Online.

Anthony - Anth0nyPadilla
Ian - IanSmosh
Lasercorn - bearholdnshark/Lasercorn
Jovenshire - Paranormalpir8/TheJovenshire1
Mari - AtomicMari
Sohinki - EndlessM1ke/Maniac.s2k
Flitz - EvilFlitz/Nerdsworth
Wes - Skullknight101/WesTheEditor
Jimmy - thediscorobot
Cliff - ZOMBIFIER
Malik - Malik4Play
Dan - OSTEOFEROCIOUS
Brandon - DrHenryJonesJr
Jon Bailey - JonBVO
Tethyx - Tethyx
Shayne (second appearance) & Courtney - Sm0shgames

The histories behind 3 of these names, (Joven, Sohinki, Lasercorn) were revealed in Why We're Single video "How We Got Our Names".

Trivia

This is the first Smosh Games series based around one specific game and currently one of the only three, along with MariCraft and Smosh Smash!
Lasercorn is shown to be the most violent member of the group, Sohinki the most serious, Mari the most kinky, Flitz is the most fashionable, Wes the most accomplished while Jovenshire is the most passive and just wants to enjoy himself.
Originally the crew played the Xbox 360 edition of Grand Theft Auto V, but beginning with episode 58 they switched to the Xbox One edition.
Ironically Joven said that he disliked the Grand Theft Series in Games We Hate but he said that he grew to like the game series and has currently made the most appearances in Grand Theft Smosh, two more than Lasercorn.
Anthony appeared in the least amount of episodes, even fewer than Ian.
Ian tends to use other people's accounts in later episodes, mostly Wes's, because he's too lazy to put in his username and password.
Shayne, impersonating Nic Cage, was using Wes's account in his first appearance in episode 99.
Episode 101 is the first (and as of now, only) time all 2 members of Smosh + 6 members of Smosh Games crew appear in one episode, though they all played jointly on three accounts, teams being Flitsershire (Flitz - Lasercorn - Jovenshire), Marhinksley (Mari - Sohinki - Wesley), and Ianthony (Ian - Anthony)

External links