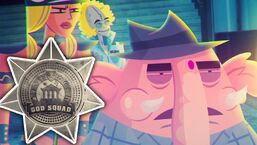 God Squad was a Shut Up! Cartoons cartoon. It ran from November 4, 2015 to December 16, 2015. Nine episodes were released. All episodes can be viewed here.
Synopsis
In the near future, when gods have little power over humans, they all join together to fight crime as detectives in the crime-ridden Kings Cross district of Sydney while trying their best to obey human laws.
Ad blocker interference detected!
Wikia is a free-to-use site that makes money from advertising. We have a modified experience for viewers using ad blockers

Wikia is not accessible if you've made further modifications. Remove the custom ad blocker rule(s) and the page will load as expected.