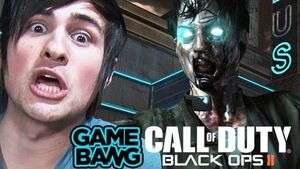 Giving Zombies Grief is the twenty-seventh installment for the SmoshGames series Smosh Game Bang.
It was uploaded on March 29th, 2013 on both smosh.com and YouTube.
The Smosh Games crew play Call of Duty: Black Ops II in "Grief mode".
Punishment
Edit
One person from the losing team has to do a lap dance to the other one while wearing a Jar Jar Binks mask.
Team Iancorn vs. Team Anthonyshire
Team Marhinki vs. Team Iancorn
Team Marhinki vs. Team Anthonyshire
Team Marhinki (2W, 0L)
Team Iancorn (1W, 1L)
Team Anthonyshire (0W, 2L)
Originally only one member of the losing team was to do the lap dance but Anthony and Jovenshire decided to both do this, as a team, to the winners. (Anthony wearing a Jar Jar Binks mask and Jovenshire wearing Darth Vader's helmet)
Sohinki had to help all the other players throughout the episode because he was the only person who had previously played Black Ops II.
Ad blocker interference detected!
Wikia is a free-to-use site that makes money from advertising. We have a modified experience for viewers using ad blockers

Wikia is not accessible if you've made further modifications. Remove the custom ad blocker rule(s) and the page will load as expected.