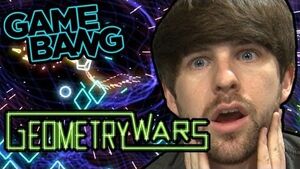 Geometric Asteroids is the twenty-ninth installment for the SmoshGames series Smosh Game Bang.
It was uploaded on April 12, 2013 on both smosh.com and YouTube.
Synopsis
The Smosh Games crew play Geometry Wars 2.
Punishment
Members of the lowest scoring team have to walk on lego barefooted.
Results
Team Iancorn - 2,110,590
Team Marishire - 1,651,945
Team Sohanthony - 586,630
Trivia
This is the first time Anthony and Sohinki's true team name has been spoken (in the previous episode where they were paired together (Team Iancorn on an Adventure), they were referred to on screen as Anthohinki, but the only team names actually spoken were Iancorn and Marishire)
When the teams were being revealed, Ian accidentally said Lasercorn instead of Iancorn.
It is believed that the reason Sohanthony had the lowest score was because no one told them to use a bomb.
This is the first time a previous episode's team arrangement was repeated.
Ad blocker interference detected!
Wikia is a free-to-use site that makes money from advertising. We have a modified experience for viewers using ad blockers

Wikia is not accessible if you've made further modifications. Remove the custom ad blocker rule(s) and the page will load as expected.