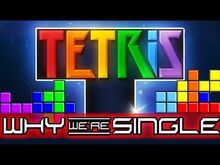 Games That Made Us Smarterer is the fourteenth installment for the Smosh Games series Why We're Single.
Description:
Games arn't all violent and mindless, these ones made us smarter!
Screenshots
Video
http://www.youtube.com/watch?v=Jm36Qc9BTqA
Ad blocker interference detected!
Wikia is a free-to-use site that makes money from advertising. We have a modified experience for viewers using ad blockers

Wikia is not accessible if you've made further modifications. Remove the custom ad blocker rule(s) and the page will load as expected.