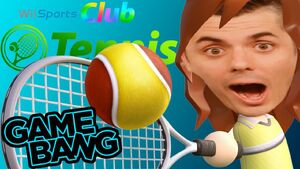 Game, Set, Bang! is the sixty-sixth installment of the Smosh Games series Smosh Game Bang.
It was uploaded on 27th December 2013 on both smosh.com and YouTube.
Synopsis
The Smosh Games crew play WiiSports Club Tennis in a teams of two.
Punishment
Members of the losing team would play another match against the other losing team using their Wii remote on their crotch area.
Matches
Result: Sohanthony wins (3-2)
Result: Jovencorn wins (3-1)
Result: Sohanthony wins (3-0)
Punishment match
Result: Jovencorn wins (2-1)
Trivia
As of this episode the only two-player team combination yet to happen is Sohinki-Jovenshire.
Ad blocker interference detected!
Wikia is a free-to-use site that makes money from advertising. We have a modified experience for viewers using ad blockers

Wikia is not accessible if you've made further modifications. Remove the custom ad blocker rule(s) and the page will load as expected.