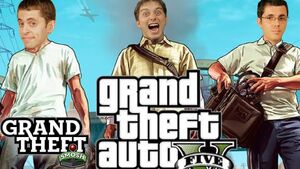 Grab His Sack and Run is the thirteenth installment in the Smosh Games series Grand Theft Smosh.
Synopsis
Joven, Sohinki, and Lasercorn are playing a good old fashion game of capture the bag. Rules are simple: grab the other man's bag and return it to your base. Just make sure not to get tagged by the spray of bullets on your way back.
Video
Ad blocker interference detected!
Wikia is a free-to-use site that makes money from advertising. We have a modified experience for viewers using ad blockers

Wikia is not accessible if you've made further modifications. Remove the custom ad blocker rule(s) and the page will load as expected.