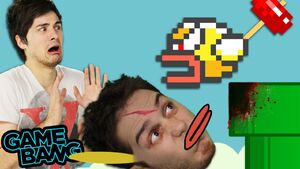 Flappy Bird Destroys Us! is the seventy-fourth installment of the Smosh Games series Smosh Game Bang.
It was uploaded on February 21, 2014 on both smosh.com and YouTube.
Synopsis
The Smosh Games crew play Flappy Bird on iPad.
Punishment
The two players with the lowest score will have to do an upside down twerk.
Results
First two rounds were 2 minutes but the last one was 1 minute
Round 1
Round 2
Anthony - 20
Jovenshire - 8
Mari - 12
Ian - 12
Lasercorn - 9
Sohinki - 12
Round 3
Anthony - 32
Jovenshire - 12
Mari - 10
Ian - 10
Lasercorn - 11
Sohinki - 21
Sudden death round
Final Results
Anthony - 15 points
Sohinki - 10 points
Mari - 9 points
Lasercorn - 8 points*
Ian - 8 points
Jovenshire - 7 points
Note: Lasercorn won the sudden death
Trivia