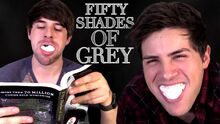 Fifty Shades of Grey - Chubby Bunny
is the 207th episode of
Smosh is Bored
. It was released on Febuary 16, 2015. In this video Ian and Anthony play Chubby Bunny while reading
Fifty Shades of Grey
. The rule is: If you ever get to a "dirty" part you have to put a huge piece of marshmallow in your mouth.
Ad blocker interference detected!
Wikia is a free-to-use site that makes money from advertising. We have a modified experience for viewers using ad blockers

Wikia is not accessible if you've made further modifications. Remove the custom ad blocker rule(s) and the page will load as expected.