Failed Auditions for Smosh: The Movie is a video released September 24, 2015 on Smosh 2nd Channel.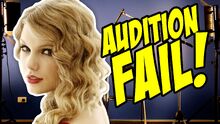 Video
Courtney, Shayne, Keith, Noah and Olivia dress up and act like famous celebrities and random characters to do "failed auditions" for Smosh: The Movie.
Characters
Michael Caine - Shayne
Chris Rock - Keith
Taylor Swift - Courtney
Young Larry King - Noah
Tom Cruise - Shayne
Chris Tucker - Keith
Jackie Chan - Olivia
Matthew McConaughey - Shayne
Tricia (Insane Girl) - Courtney
Black Adam (First Man On Earth) - Keith
Owen Wilson - Courtney
Nicholas Sparks - Shayne
A Friggin' Horse - ?
Ad blocker interference detected!
Wikia is a free-to-use site that makes money from advertising. We have a modified experience for viewers using ad blockers

Wikia is not accessible if you've made further modifications. Remove the custom ad blocker rule(s) and the page will load as expected.