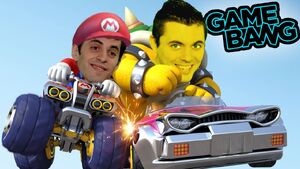 F#ck Mario Kart Blue Shells! is the eighty-ninth installment of the Smosh Games series Smosh Game Bang.
It was uploaded on 6th June 2014 on both smosh.com and YouTube.
Synopsis
The Smosh Games crew race in Mario Kart 8.
Punishment
Bottom four players have to attach balloons to their legs and try to pop each other's balloon.
Battles
1st place: 4 points, 2nd place: 3 points, 3rd place: 2 points, 4th place: 1 point
Round 1
Players
Lasercorn, Ian, Mari and Jovenshire
Scores
Lasercorn
Mari
Ian
Jovenshire
Round 2
Players
Ian, Mari, Jovenshire and Sohinki
Scores
Jovenshire
Ian
Sohinki
Mari
Round 3
Players
Jovenshire, Mari, Sohinki and Anthony
Scores
Sohinki
Anthony
Jovenshire
Mari
Round 4
Players
Mari, Sohinki, Anthony and Lasercorn
Scores
Anthony
Lasercorn
Sohinki
Mari
Round 5
Players
Sohinki, Anthony, Lasercorn and Ian
Scores
Anthony
Ian
Lasercorn
Sohinki
Final Round
Players
Anthony, Lasercorn, Ian and Jovenshire
Scores
Lasercorn
Jovenshire
Anthony
Ian
Scores
=1st place: Anthony (13 pts)
=1st place: Lasercorn (13 pts)
3rd place: Jovenshire (10 pts)
=4th place: Ian (9 pts)
=4th place: Sohinki (9 pts)
Last place: Mari (6 pts)
Note: Anthony's score was announced as 14 by mistake.
Trivia
Anthony set a new record winning his third consecutive individual challenge.

All these wins came in Nintendo games.
This is the second time a single category of games (Nintendo) has been played three times in a row.

Jovenshire was rather surprised that despite his good effort (3rd place) he still ended doing the punishment as he was in "bottom four" as opposed to regular "bottom three" or "bottom two".
Jovenshire, Lasercorn, Sohinki and Mari previously played this game with Wes and Flitz in a three-part grand prix series in the videos We Grand Prix in Mario Kart 8, Mario Kart 8 Grand Prix Part 2 and Mario Kart 8 Grand Finale.

Also Anthony, Jovenshire, Lasercorn, and Sohinki played this game 2 weeks before it came out.
Ad blocker interference detected!
Wikia is a free-to-use site that makes money from advertising. We have a modified experience for viewers using ad blockers

Wikia is not accessible if you've made further modifications. Remove the custom ad blocker rule(s) and the page will load as expected.