Exploding Kittens Mousetrap Gauntlet is an episode of Smosh Game Bang and the sixth episode of Smosh Winter Games. It was released February 19, 2016.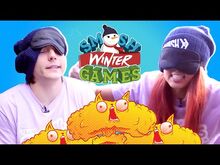 Synopsis
Team Blue Balls and Team Snow Fleeks continue the winter games with a game of Exploding Kittens.
Punishment
The eliminated players has to be blindfolded and walk barefooted through snow and mouse traps.
Players
Jovenshire, Noah, Flitz and Courtney (Team Blue Balls)
Keith, Wes, Mari and Olivia (Team Snow Fleeks)
Results
Olivia was the last person standing, giving team Snow Fleeks the win. Everyone else, including the other Snow Fleek players, must face the punishment.
Trivia
Although the match is played as a team battle, the game would continue until there's only 1 player left. During the finals, Olivia and Mari had to face each other, despite being on the same team.
Sohinki, Lasercorn and Shayne were present in the video as spectators, but didn't participate in the game.
This video was brought up more then once, in the Smosh Winter Games finale