Epic Wrap Battle is the fourth episode of Smosh Winter Games released February 12, 2016.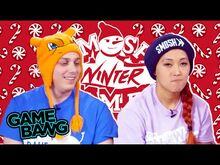 Synopsis
In the fourth round of the Smosh Winter Games, Team Blue Balls and Team Snow Fleeks must face each other in a gift-wrapping competition.
Teams
Team Snow Fleeks: Sohinki, Mari, Olivia, Ketih
Team Blue Balls: Lasercorn, Noah, Shayne, Flitz
Punishment
The winners get to wrap the losers in gift papers.
Results
Team Blue Balls won.
Trivia
Although quantitatively, Team Snow Fleeks had wrapped more gifts, they lost the game because some of their gifts were not wrapped properly, and were not counted by the judge.
Ad blocker interference detected!
Wikia is a free-to-use site that makes money from advertising. We have a modified experience for viewers using ad blockers

Wikia is not accessible if you've made further modifications. Remove the custom ad blocker rule(s) and the page will load as expected.