Epic Rock Band Humiliation is the 158th installment of the Smosh Games series Smosh Game Bang.
It was uploaded on October 2, 2015 on both smosh.com and YouTube.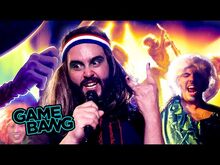 Synopsis
Wes, Flitz, Jovenshire, Mari, Sohinki and Lasercorn are joined by Steve Zaragoza and Maude Garrett of SourceFed to play Rock Band 4.
Punishment
Losing team will have go on a live stage and get pelted with garbage.
Teams
Depech Maude - Lasercorn, Sohinki, Wes and Maude
Scam Sandwich - Jovenshire, Flitz, Mari and Steve
Results
Depech Maude - 798,497
Scam Sandwich - 707,805
Trivia
This episode was sponsored by Harmonix.
Ad blocker interference detected!
Wikia is a free-to-use site that makes money from advertising. We have a modified experience for viewers using ad blockers

Wikia is not accessible if you've made further modifications. Remove the custom ad blocker rule(s) and the page will load as expected.