Edward Kenway

Name:

Edward Kenway

Gender:

Male

Likes:

Treasure, girls and being a pirate

Hates:

Blackbeard
Edward Kenway is a character in Smosh. He appeared in Assassin's Creed 4 Rock Anthem.
He is portrayed by Ian Hecox.
The Character
Edward Kenway is a privateer turned pirate, lured over by the promise of riches and treasure. He eventually encounters and joins the Assassin's Order.
In Smosh's series, Edward is a very mischievous, rebellious man, and appears to be uncaring towards the lives of innocent women. He enjoys plundering the loot of his rival BlackBeard and repeatedly humiliates him, especially at the end where he dyes his beard pink and calls him "Pinkbeard". He also appears to be very wild and carefree, often seen partying with his crew.
Appearances
His own music video to celebrate the release of Assassin's Creed 4.
In 22 Crazy Vines (That Don't Exist) Edward was dubbed over by a screaming goat.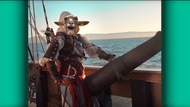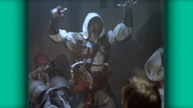 Ad blocker interference detected!
Wikia is a free-to-use site that makes money from advertising. We have a modified experience for viewers using ad blockers

Wikia is not accessible if you've made further modifications. Remove the custom ad blocker rule(s) and the page will load as expected.