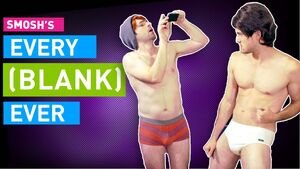 EVERY [BLANK] EVER (Trailer) is a trailer for the series, Every [Blank] Ever which started on May 12, 2015.
Video Description:
EVERY [BLANK] EVER is a parody show poking fun at everything… ever. Join Ian, Anthony, Keith, Noah, and Olivia as we throw a big, fat magnifying glass on the ridiculous tropes and hilarious stereotypes from movies, music, technology, video games, and popular culture… NO SUBJECT IS SAFE! Catch the newest series from SMOSH every other Tuesday on http://youtube.com/SMOSH
HELP US FILL IN THE [BLANK]! Tell us what you want us to make fun of next in the comments!
Trivia
Hulk Hogan and Daniel Bryan appear in this video.
Ad blocker interference detected!
Wikia is a free-to-use site that makes money from advertising. We have a modified experience for viewers using ad blockers

Wikia is not accessible if you've made further modifications. Remove the custom ad blocker rule(s) and the page will load as expected.