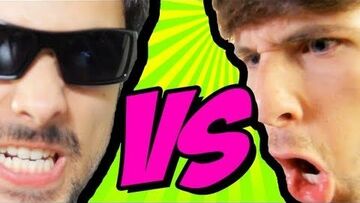 """"EPIC TEENY BATTLE! is a Smosh video uploaded on November 13, 2010, which is on a Saturday, not the usual Friday. Youtubers Joe Penna (aka Mystery Guitar Man) and Freddie Wong guest star in this episode.
The Delay
The video was originally going to be uploaded on Friday November 12, 2010, but Ian's mom downloaded a bunch of cute puppy videos online which were riddled with viruses, which crashed their computer. It is unknown if this really happened. Ian then tells the viewers that in the meantime, they can either check out rockstar yearbook photos on the Smosh Pit or go to the website and keep refreshing the page until the video is uploaded.
Plot
Ian, Anthony and MysteryGuitarMan Joe Penna come into the house with boxes. The three put their boxes on the table and open the boxes to reveal tiny versions of themsevles, ready for battle. Ian, Anthony and Joe shout out loud as their tiny counterparts charge in for battle.
The tiny Ians, Anthonys and Joes start to fight each other. They're either killing each other or just fooling around. Ian and Anthony start yelling, hoping their tiny counterparts will win while Joe shouts, shaking some money in his hands. The battle continues as more of the tiny people die or fool around.
The scene is later revealed to be the three playing with Barbie dolls. Freddie Wong walks in with mail and catches the three on the act. Ian, Anthony and Joe awkwardly stare at Freddie. It wasn't long until Freddie joins in on the fun.
Trivia/Goofs
The video's uploading was supposedly delayed because Ian's Mom downloaded puppy videos that were riddled with viruses, which crashed Smosh's computer.

This is the first Smosh video to be delayed of a certain reason, the second being 2012's A SMOSHY CHRISTMAS!; being delayed because of it being uploaded at the time of the Newtown, Connecticut School Shooting

If one looks at the dolls the four play with, Ian's the only one playing with a Ken doll.

This is a coincidence, because lan and Anthony bought Toy Story 3 Barbie and Ken Dolls, one of them would have Ken while the other guys had one of the 3 Barbies.

Before the revealance that the teeny people are dolls, the teeny people can be seen in awkward positions and/or doing various weird things. Some of these include: a teeny Ian with a sword stabbed through his crotch so as to look like an erection, a teeny MysterGuitarMan on a magic carpet, and a teeny Ian humping a sword.
In one shot, Ian's box says "No Gurlz Allowed".
Subscription Ending
| | | |
| --- | --- | --- |
| " | Thanks for subscribing! He might have grazed my nipple, but that's it, trust me. | " |
Shut Up! Opening
"Yo I ate a midget last night.SHUT UP!
Video
https://www.youtube.com/watch?v=twwQb0eE3no