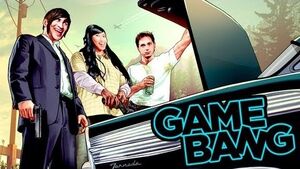 Drunk Driving in GTA 5 is the fifty-fourth installment in the Smosh Games series Smosh Game Bang.
It was uploaded on September 27, 2013 on smosh.com and on October 4, 2013 on YouTube.
Synopsis
The Smosh Games crew play GTA V on drunk mode with 2 lives with 3 stars and 1 life with 4 stars.
Punishment
Two people with shortest time have to take shots of different kitchen condiments.
Turn order
Ian
Sohinki
Lasercorn
Jovenshire
Mari
Anthony
Results
Mari - 7 minutes
Sohinki - 6 minutes 32 seconds
Anthony - 6 minutes 28 seconds
Jovenshire - 6 minutes 17 seconds
Ian - 6 minutes 9 seconds
Lasercorn - 5 minutes 55 seconds
Trivia
Initially they intended to play with 5 stars but Ian was shot after few seconds two times so they changed to 3 stars.
During the the announcement of the final scores, Sohinki joked that Mari "finally won a Game Bang that is not a dancing game", a reference to her recent high number of consecutive losses and the fact that she has never lost such a category (even though at that point, she had only won two of the seven previous dancing games played).
The whole footage of them explaining the punishment was added to the second version of the video which was uploaded on YouTube.
It seems that Ian knew what the punishment drinks were beforehand as he said that he was going for the honey and he wouldn't mind butter. Later he got exactly those two things.
This was Ian and Lasercorn's fourth punishment together
Ad blocker interference detected!
Wikia is a free-to-use site that makes money from advertising. We have a modified experience for viewers using ad blockers

Wikia is not accessible if you've made further modifications. Remove the custom ad blocker rule(s) and the page will load as expected.