David "Lasercorn" Moss



Name:

David Moss

Gender:

Male

Nationality:

Italian-American

Date of Birth:

April 24, 1984 (age 34)

Family:

Jeff Moss (father)
Tyler Moss (son)

Spouse:

Sabrina Moss

YouTube Channels:
David Moss
, most commonly known as
Lasercorn
and also as
Dave
, is an American YouTuber and a former member of
Smosh Games
. Before Smosh Games, he worked at Mahalo Games and Clevver Games with
Joshua Ovenshire
and
Matt Sohinki
, both of whom joined Smosh Games with him in September 2012 when Clevver merged with Smosh to create Smosh Games. He announced August 5, 2017 that he, along with Sohinki, were no longer full-time members of Smosh Games. However, he still makes occasional appearances on the channel - notably for videos such as BIGGEST GAME BANG EVER! and
Smosh & Order
.
Show Hostings
Description
In the past, Lasercorn appeared on both Clevver Games and Mahalo Games, and in 2011 Lasercorn's first appeared in Lasercorn's 1st Vlog on his YouTube channel. On September 2012 he joined Smosh Games, along with Jovenshire and Sohinki. He also has his own channel called Lasercorn, which was created on February 26, 2013.
Appearance
Lasercorn has brown eyes, and currently has short, dyed red and and orange/yellow hair, resembling fire.
From June 2014 to 2017, Lasercorn's hair had been dyed orange. He had to dye it this colour after losing a Cage Match to Sohinki, the footage for which can be seen in 22nd June 2014's bonus video. As an added forfeit, he had to keep it this color for an entire month. He admitted on a Twitch stream that he was too lazy to dye it again (either orange or his natural hair color), so he was going to wait until it washed out. He also said that he had been considering dying it again, with either red or green, but he may have been joking. Later on, Lasercorn revealed that, secretly, he'd hoping for an excuse to dye his hair orange for some time, and that if you looked closely at the original video in which he lost the Cage Match, it would be clear that he was not trying as hard as he normally would.[1]
Since his original dye job, Lasercorn has made many alterations to his hair, but almost always sticks to different variations of orange. For some time after his original colour change, he let it grow out to its original brown, before dying it orange once again in the 2015 video EXTREME HAIR MAKEOVER. Later, after a promise to do so if a third Star Wars Battlefront game came out, Lasercorn had his hair shaved into an imitation of the Jovenhawk, fittingly called the Laserhawk. A few months later, he briefly dyed his hair blond, before returning to the original orange. In mid-2017, he began dying his hair in a mixture of orange and yellow, before adding red to his hairstyle later that year. In early 2018, the colour of his hair was a faded mixture of red and orange, before he had his dye job redone once again.
Lasercorn Leaves Smosh Games
On August 5, 2017 he uploaded a video on his personal channel, titled Lasercorn's Next Step (originally titled "Lasercorn Leaving Smosh Games?") stating that he is no longer a full-time member of Smosh Games. He explains he stood down because he wants be able to have his own schedule and spend more time with his son. He also says that it was his own personal choice and he is still close to everyone on Smosh Games. The next day, he, Sohinki, YouTuber Amy Lynn (misshabit) and Pamela Horton, Ian's current girlfriend, created the channel ToasterGhost. Despite no longer being being regular cast members, Lasercorn and Sohinki continue to make occasional appearances on the channel.
Trivia
Lasercorn gets his nickname from a tattoo on his back of a unicorn shooting a laser from a rocket launcher on its back. Jovenshire gave him the name after seeing the tattoo, upon which Joven asked if he could call him Lasercorn, to which he replied, "I'm weirdly okay with that."

Lasercorn's tattoo was referenced strongly in the Robot Unicorn Tattoos! Game Bang, where the loser would get a tattoo, based on Lasercorn's, drawn on their back with permanent marker.

Lasercorn got his tattoo when several years ago, a friend of his was leaving to serve in the marines in Afghanistan. Lasercorn invited his friend to do anything he wanted the weekend before he left, in response to which his friend invited him to get tattoos done. Lasercorn got his lasercorn tattoo; his friend got Samuel L. Jackson riding a T-rex. Lasercorn has said on a few occasions that his friend's tattoo is the only tattoo in the world which he considers superior to his own.
He is married to Sabrina "Brina" Moss, a fitness trainer who has yet to be shown in any videos. Their first child, Tyler Moss, was born on January 28, 2015[2].
He loves to shoot people in the testicles in any game with a gun or bow.
As shown in the many dancing Game Bangs, Lasercorn has proven not to be a very good dancer, landing in the bottom three on seven out of eleven occasions (excluding Just Dance Rematch, where he came first, Breaking It Down In 2014, Just Dance Like No One is Watching and Halloween Just Dance!!).
Lasercorn is a writer and founder for the web comic series "Poorly Drawn Shark"
Lasercorn is a huge fan of the toys Dino-Riders, saying that he loved them when he was little and expressing his idea for a Dino-Riders video game.
Lasercorn has mentioned that he is a huge fan of Game of Thrones, having both read the books and watched the TV show.

He said he would be Dornish, as he wouldn't really involve himself in fighting.

His signature move during Kinect challenges is "Raptor Claws"
He mentioned in a personal channel video that he used to work as a lifeguard. 
Under his real name, Lasercorn participated in a 2009 episode of American Ninja Warrior wearing a green morphsuit, but failed to make it through the obstacle course. He confirmed this in November 2013 in a Q&A video on his personal channel.
Lasercorn is the oldest member of the Smosh Games crew.

The American Ninja Warrior footage on his channel presented him as "David Moss (25), Editor", so we can assume that he was born in 1984.

Lasercorn was known for his character "Riot Shield Man," a series on Clevver Games about a man with a riot shield in Modern Warfare.

Sohinki occasionally joined him as "Knife Man Guy"
Riot Shield Man has been featured both in a Smosh Games Bonus video and on his personal channel.

His real name is the same as a national hockey player for the Phoenix Coyotes.
The first time Lasercorn met Joven and Sohinki was at a former job for Mahalo Games, where Lasercorn made Starcraft videos.
Until 28 March 2014, Lasercorn held the record for most consecutive wins on Smosh Game Bang with 4 (PlayStation Smash Bros, Mario Mud Tackling, Protect the Flag and Bustin Makes Me Feel Good (21/12/12-11/1/13)).
Jeff Moss (David's father) appeared in a special video uploaded on 10th June 2014 which sees Lasercorn and Sohinki playing against their dads in a "grudge match".
In a Q&A video on his own channel, he has stated that he considers himself to be the best Smosh Games gamer (or at least, the most balanced). 
It has been shown that he is feared (at times) by the other members, or at least on camera. A notable example would be in Attack on Lasercornia, where everyone was terrified and unsettled by Lasercorn's calm approach after they had destroyed Lasercornia, or when Joven refused Sohinki's dare to eat Lasercorn's food because "he will beat me up".
In Why We're Single videos, Lasercorn has shown the tendency to repeat the theme of the video (i.e. the subject that will be talked about), prior to his answers to the theme. This linguistic 'formula', if you will, is then often followed by "let's see..." 
Its been implied in multiple videos that he is actually very lazy such as aspiring to be a Snorlax from Pokemon and admiring how it can disrespect authority out laziness in Apparently We're Lazy Dicks, throwing a pillow at Jovenshire for waking him up and refusing to cook breakfast in Comic Con Breakfast. 
Lasercorn was the first member of the Smosh Family to get married, and as of July 2018 is still the only member to have a child.

Out of the four original Smosh Games members, Lasercorn is currently one of three who are married, the others being Mari and Joven.

One of his most well-known intros is the "Laser-stare" in which, with a neutral expression, he will open his eyes wide and slowly tilt his head to his right in a disturbing and terrifying manner. 
Ian and Lasercorn were forced to dance to the song (I've Had) The Time Of My Life by Bill Medley and Jennifer Warnes whilst reenacting the dance from the movie Dirty Dancing as punishment in Just Dance 4 Hilarity causing the creation of what fans and other members call Iancorn which is often referenced in other videos. 
He made a bet saying that if a new Star Wars Battlefront game was released he would get a mohawk, and he mentions in Top 5 Most Anticipated Games that he will keep his promise after finding out on Wikipedia about the games possible release.
Lasercorn has bdellophobia (a fear of leaches) which was explained in Characters That Make Us Wanna Puke where He says that that it was caused when he was in a camp and he had gone swimming in the camp lake and a camp counselor warned him of leaches in the lake while he was still swimming and has been paranoid and afraid of leaches ever since.

He also indicated that he has a fear of Teletubbies which caused him to get nightmares as a child and admits that Pinky Winky was the scariest teletubby in Teletubby Nightmare on his channel.  

Lasercorn has said numerous times that Bulletstorm is his favorite video game such as wearing a Bulletstorm T-shirt, putting Grayson Hunt (the protagonist) on top 5 Anti-heroes and mentions talking about it a lot in Best and Third Person Shooter Kills whilst talking about the kills, often places the game on the top 5 lists and mainly states his disappointment in the lack of a sequel to the game.  
Lasercorn did the ALS ice bucket challenge on another channel called davemossmedia.  
He has tendencies to make up facts in order to succeed in a game then immediately saying that the viewer shouldn't research it. This was lampshaded in one episode where it is called "lazerfact" this tendency was created in Let the Super Fight Begin! where he tried to win a round by saying that Aquaman subdued the Hulk by using a whale.  
He has said numerous times that he hates Nickleback, even saying in Let the Super Fight Begin! that a spider would commit suicide after listening to him.  
Contrary to popular belief, it was actually Lasercorn who slurred the 's' in Death Bus to give it its more famous name and later blamed it on Jovenshire, as revealed during a brief flashback in the Air Death Buth episode.  
Lasercorn is by far the most insane and destructive member of the crew during episodes of Grand Theft Smosh, to the point where most deaths, blasts, explosions, cop attacks, robberies, and generally any activities that involve utterly destroying stuff, are blamed on him, and rightfully so. He seems particularly addicted to sticky bombs.
He hates to be called by his real name.
In Shapes Are Hard in Geometry Wars 3 he states he has ADD (Attention Deficit Disorder) and because of this found it difficult to play.
Lasercorn also appears on Game Shakers
He has a dog named Lady.
He is one of three Smosh hosts from Ohio, along with Wes and Keith Leak Jr.
In DISTURBED FRIENDS w/ SMOSH GAMES, it is revealed that he was held back in kindergarten.
In the Grand Theft Smosh Trigger Game Lasercorn has been directly responsible for both double triggers, double triggering Joven when he said 'pick up' after Wes said 'bridge' and he triggered Flitz when Lasercorn said 'explosion' and immediately after said 'stunt jump'. He is also the only player to have illegally 'self trigged' which he did out of frustration.
Links
Twitter - http://twitter.com/LaserCorn
Twitch - http://www.twitch.tv/thelasercornshow/profile
Personal Channel - http://youtube.com/LaserCorn
Lasercorn's First Vlog - www.youtube.com/watch?v=iwxuNiYRHnA
Lasercorn's former channel - http://www.youtube.com/user/Lazercorn?feature=watch
Patreon-https://www.patreon.com/lasercorn
Gallery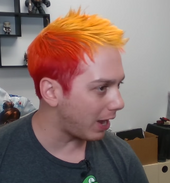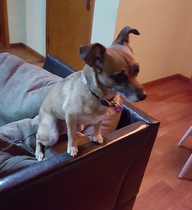 References