Lasercorn



Name

David Moss

Gender

Male

Nationality

American

Date of birth

24 April 1984

Age

32

Family

Jeff Moss (father)

Spouse

Sabrina Moss

Children

1
David "Lasercorn" Moss, also known as Lasercorn or Dave, is one of the six hosts and gamers at Smosh Games. Before Smosh Games, he worked at Mahalo Games and Clevver Games with Joshua Ovenshire and Matt Sohinki, both members that joined Smosh Games with him in September 2012 when Clevver merged with Smosh to create Smosh Games.
Show Hostings
Description
David was known to appear on Clevver Games and Mahalo Games, and in 2011 Lasercorn's first appeared in Lasercorn's 1st Vlog on his YouTube channel. On September 2012 he switched over to Smosh Games. He also has his own channel called Lasercorn, started on February 26, 2013.
Appearance
David has short dirty orange hair and brown eyes. As of June 2014, Lasercorn's hair has been dyed orange. He had to dye it this colour after losing a Cage Match to Sohinki, the footage for which can be seen in 22nd June 2014's bonus video. As an added forfeit, he has to keep it this colour for an entire month. He admitted on a Twitch stream that he is too lazy to dye it again (either orange or his natural hair color), so he is going to wait until it washes out. He also said that he has been considering dying again, with either red or green, but he may have been joking. He did dye it again and now it's dark reddish orange.
Trivia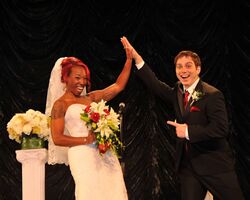 Links
Twitter - http://twitter.com/LaserCorn
Twitch - http://www.twitch.tv/thelasercornshow/profile
Personal Channel - http://youtube.com/LaserCorn
Lasercorn's First Vlog - www.youtube.com/watch?v=iwxuNiYRHnA
Lasercorn's former channel - http://www.youtube.com/user/Lazercorn?feature=watch
Gallery