Lasercorn



Name

David Moss

Gender

Male

Nationality

American

Date of birth

24 April 1984 (age 31)

Age

31

Family

Jeff Moss (father)

Spouse

Brina Moss

Children

1
David "Lasercorn" Moss, also known as Lasercorn or Dave, is one of the six hosts and gamers at Smosh Games. Before Smosh Games, he worked at Mahalo Games and Clevver Games with Joshua Ovenshire and Matt Sohinki, both members that joined Smosh Games with him in September 2012 when Clevver merged with Smosh to create Smosh Games.
Show Hostings
Smosh Smash
Button Bash
Smosh Top 5
Description
David was known to appear on Clevver Games and Mahalo Games, and in 2011 Lasercorn's first appeared in Lasercorn's 1st Vlog on his YouTube channel. On September 2012 he switched over to Smosh Games. He also has his own channel called Lasercorn, started on February 26, 2013.
Appearance
David has short dirty orange hair and brown eyes. As of June 2014, Lasercorn's hair has been dyed orange. He had to dye it this colour after losing a Cage Match to Sohinki, the footage for which can be seen in 22nd June 2014's bonus video. As an added forfeit, he has to keep it this colour for an entire month. He admitted on a Twitch stream that he is too lazy to dye it again (either orange or his natural hair color), so he is going to wait until it washes out. He also said that he has been considering dying again, with either red or green, but he may have been joking. He did dye it again and now it's dark reddish orange.
Trivia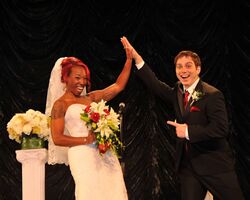 Lasercorn gets his nickname from a tattoo on his back of a unicorn shooting a laser with a rocket launcher on its back. Jovenshire gave him the name after seeing the tattoo, when Joven asked if he could call him Lasercorn, to which he replied "I'm weirdly okay with that."

Lasercorn's tattoo was referenced strongly in the Robot Unicorn Tattoos! Game Bang, where the loser would get a tattoo, based on Lasercorn's, drawn on their back with permanent marker.

Lasercorn got his tattoo when several years ago, a friend of his was leaving to serve in the marines in Afghanistan. Lasercorn invited his friend to do anything he wanted the weekend before he left, to which his buddy invited him to get tattoos done. Lasercorn got his lasercorn tattoo; his friend got Samuel L. Jackson riding a T-rex. Lasercorn has said on a few occasions that his friend's tattoo is the ONLY tattoo in the world which he considers superior to his own lasercorn tattoo.
David is married to Sabrina "Brina" Moss, a fitness trainer who has yet to be shown in any videos. Their first child, Tyler Moss was born in early 2015 (c. March).
He loves to shoot people in the testicles in any game with a gun or bow.
As shown in the many dancing Game Bangs, Lasercorn has proven not to be a very good dancer, landing in the bottom three on seven out of eleven occasions (excluding Just Dance Rematch, where he came first, Breaking It Down In 2014, Just Dance Like No One is Watching and Halloween Just Dance!!).
Lasercorn is a writer and founder for the web comic series "Poorly Drawn Shark"
Lasercorn is a huge fan of the toys Dino-Riders, saying that he loved them when he was little and expressing his idea for a Dino-Riders video game. His twitter background is also a Dino-Riders scene.
Lasercorn has mentioned that he is a huge fan of Game of Thrones, having both read the books and watched the TV show.

He said he would be Dornish, as he wouldn't really involve himself in fighting.

His signature move during Kinect challenges is "Raptor Claws"
He mentioned in a personal channel video that he used to work as a lifeguard. 
Under his real name, Lasercorn participated in a 2009 episode of American Ninja Warrior wearing a green morphsuit, but failed to make it through the obstacle course. He confirmed this in November 2013 in a Q&A video on his personal channel.
Lasercorn is the oldest member of the Smosh Games crew.

The American Ninja Warrior footage on his channel presented him as "David Moss (25), Editor", so we can assume that he was born in 1984.

Lasercorn was known for his character "Riot Shield Man," a series on Clevver Games about a man with a riot shield in Modern Warfare.

Sohinki occasionally joined him as "Knife Man Guy"
Riot Shield Man has been featured both in a Smosh Games Bonus video and on his personal channel.

His real name is the same as a national hockey player for the Phoenix Coyotes.
The first time Lasercorn met Joven and Sohinki was at a former job for Mahalo Games, where Lasercorn made Starcraft videos.
Until 28 March 2014, Lasercorn held the record for most consecutive wins on Smosh Game Bang with 4 (PlayStation Smash Bros, Mario Mud Tackling, Protect the Flag and Bustin Makes Me Feel Good (21/12/12-11/1/13)).
Jeff Moss (David's father) appeared in a special video uploaded on 10th June 2014 which sees Lasercorn and Sohinki playing against their dads in a "grudge match".
In a Q&A video on his own channel, he has stated that he considers himself to be the best Smosh Games gamer (or at least, the most balanced) 
It has been shown that he is feared (at times) by the other members, or at least on camera. A notable example would be in Attack on Lasercornia, where everyone was terrified and unsettled by Lasercorn's calm approach after they had destroyed Lasercornia, or when Joven refused Sohinki's dare to eat Lasercorn's food because "he will beat me up".
In Why We're Single videos, Lasercorn has shown the tendency to repeat the theme of the video (i.e. the subject that will be talked about), prior to his answers to the theme. This linguistic 'formula', if you will, is then often followed by "let's see..." 
Its been implied in multiple videos that he is actually very lazy such as aspiring to be a Snorlax from pokemon and admiring how it can disrespect authority out laziness in Apparently We're Lazy Dicks, throwing a pillow at Jovenshire for waking him up and refusing to cook breakfast in Comic Con Breakfast. 
He is one of the two SmoshGames members (and only male) to have a working relationship, the other member is Mari. 
One of his most well-known intros is the "Laser-stare" in which, with a neutral expression, he will open his eyes wide and slowly tilt his head to his right in a disturbing and terrifying manner. 
Ian and Lasercorn were forced to dance to the song (I've Had) The Time Of My Life by Bill Medley and Jennifer Warnes whilest reenacting the dance from the movie Dirty Dancing as punishment in Just Dance 4 Hilarity causing the creation of what fans and other members call Iancorn which is often referenced in other videos. 
He made a bet saying that if a new Star Wars Battlefront game was released he will get a mowhawk and he mentions in Top 5 Most Anticipated Games that he will keep his promise after finding out on Wikipedia about the games possible release.  
Lasercorn has bdellophobia (a fear of leaches) which was explained in Characters That Make Us Wanna Puke where He says that that it was caused when he was in a camp and he had gone swimming in the camp lake and a camp counselor warned him of leaches in the lake while he was still swimming and has been paranoid and afraid of leaches ever since.

He also indicated that he has a fear of Teletubbies which caused him to get nightmares as a child and admits that Pinky Winky was the scariest teletubby in Teletubby Nightmare on his channel.  

Lasercorn has said numerous times that Bulletstorm is his favorite video game such as wearing a Bulletstorm T-shirt, putting Grayson Hunt (the protagonist) on top 5 Anti heros and mentions talking about it alot in Best and Third Person Shooter Kills whilest talking about the kills, often places the game on the top 5 lists and mainly states his disappointment in the lack of a sequel to the game.  
Lasercorn did the ALS ice bucket challenge on another channel called davemossmedia.  
He has tendencies to make up facts in order to succeed in a game then immediately saying that the viewer shouldn't research it. This was lampshaded in one episode where it is called "lazerfact" this tendency was created in Let the Super Fight Begin! where he tried to win a round by saying that Aquaman subdued the Hulk by using a whale.  
He has said numerous times that he hates Nickleback even saying in Let the Super Fight Begin! that a spider would commit suicide after listening to him.  
Contrary to popular belief, it was actually Lasercorn who slurred the 's' in Death Bus to give it its current name and later blamed it on Jovenshire, as revealed during a brief flashback in the Air Death Buth episode.  
Lasercorn is by far the most insane and destructive member of the crew in Grand Theft Smosh, to the point where most deaths, blasts, explosions, cop attacks, robberies, and generally any activities that involve utterly destroying stuff, are blamed on him, and rightfully so. He seems particularly addicted to sticky bombs.
He hates to be called by his real name.
In Shapes Are Hard in Geometry Wars 3 he states he has ADD (Attention Deficit Disorder) and because of this found it difficult to play.
Lasercorn Also Appears On Game Shakers
Links
Twitter - http://twitter.com/LaserCorn
Twitch - http://www.twitch.tv/thelasercornshow/profile
Personal Channel - http://youtube.com/LaserCorn
Lasercorn's First Vlog - www.youtube.com/watch?v=iwxuNiYRHnA
Lasercorn's former channel - http://www.youtube.com/user/Lazercorn?feature=watch
Gallery