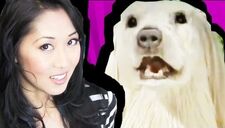 Creepy Japanese Dog Attack!
is the thirtieth installment for the
IanH
series
Smosh Pit Weekly
on
Smosh 2nd Channel
.
Featured Articles
Better in Japan: Chip Commercials
24 Smartass Acts of Vandalism
Batman Chooses His Voice
Worst Car Dealership Names EVER
11 Heads Sing About 11/11/11
Q and A
Why don't you like furries?
It's not for her, but she pokes fun at it simply for the sake of comedy.
Ad blocker interference detected!
Wikia is a free-to-use site that makes money from advertising. We have a modified experience for viewers using ad blockers

Wikia is not accessible if you've made further modifications. Remove the custom ad blocker rule(s) and the page will load as expected.