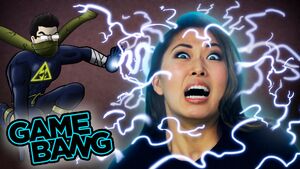 Crazy Electric Shock Game! is the one hundred and second installment of the Smosh Games series Smosh Game Bang.
It was uploaded on September 5, 2014 on both smosh.com and YouTube.
Synopsis
The Smosh Games crew break the monotony of everyday gaming and shock themselves with the Lightning Reaction toy.
Punishment
As the game itself was declared to be "One Big Punishment" it was decided that at the end of play, no one would be punished.
Trivia
This is the only Game Bang in which the game in question was played solely for fun, with no winners or losers.

However, if winner was determined based on times shocked, it would be Lasercorn who haven't been shocked once. In turn, Mari was shocked the most (mostly because of clicking the button too early).

Anthony had previously played this "game" in England with Dan Howell, PewDiePie and Marzia (see WULAS video Electric Shock Challenge), which may have influenced the decision to play it in this episode.
Joven stated at the beginning of this episode that if he received more shocks than the rest of the crew, he would get shocked by everyone. Regardless of this statement, (Mari being shocked more times than Joven), he did it anyways, (except only Ian did the shocking).
Despite Joven being shocked in his shirt and down his pants at the end of this episode, it clearly does not count since it was just for fun.
Lasercorn was never shocked once in this episode.
The episode was originally uploaded with the title "We Shock Each Other", but the name was changed the following Sunday.

It retained its original title on smosh.com.