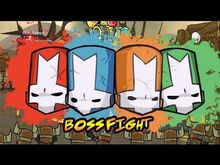 Crashing Dem Castles is the seventeenth installment for the Smosh Games series Boss Fight of the Week.
Video description
Mari stops by to play some Castle Crashers with us.
Video link
http://www.youtube.com/watch?v=wuNJCxnrFbY
Trivia
This is the first episode where it is mentioned that Sohinki is Jewish.
Ad blocker interference detected!
Wikia is a free-to-use site that makes money from advertising. We have a modified experience for viewers using ad blockers

Wikia is not accessible if you've made further modifications. Remove the custom ad blocker rule(s) and the page will load as expected.