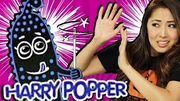 Condom Eruption 
is the 155th episode in the 
IanH
 series 
Smosh Pit Weekly
.
Featured Articles
7 People Freaking Out At McDonald's
Best Dad Ever? Super Cool Dad Uses CGI Magic To Make His Son An Action Movie Hero [Videos]
This Italian Guy Gets CRAZY Excited About His Mentos, Coke, Nutella, And Condom Experiment
Mari's Questions
If you could have any super power, which would you choose?
McNuggets or Filet-o-Fish?
Condom, Mentos, or Nutella?
Team Italia vs. Team USA. Who wins?
Q&A
What is it like hanging out with the rest of the Smosh Crew? It's like spending time with a bunch of siblings.
Ad blocker interference detected!
Wikia is a free-to-use site that makes money from advertising. We have a modified experience for viewers using ad blockers

Wikia is not accessible if you've made further modifications. Remove the custom ad blocker rule(s) and the page will load as expected.