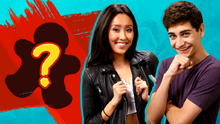 Christmas in a Blender!
is the ninth episode of
Put it in My Mouth
. It was released December 19, 2015. This episode guest stars
Olivia Sui
.
Video Description:
Our own Olivia joins Noah for some holiday cheer as we take some delicious Christmas foods and as the question, "will it blend?!" Find out how they did!
Ad blocker interference detected!
Wikia is a free-to-use site that makes money from advertising. We have a modified experience for viewers using ad blockers

Wikia is not accessible if you've made further modifications. Remove the custom ad blocker rule(s) and the page will load as expected.