Castle Crashing is the 19th episode in the Smosh Games series MariCraft.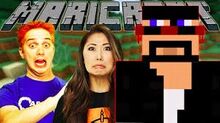 It was uploaded on 11th August 2014 on both YouTube and smosh.com
Synopsis
Using the "Chocolate Quest" mod, Mari, Lasercorn, and Wes, with special guest Captain Sparklez, go adventuring through Minecraft, taking castles and defeating enemies, dying many times in the process.
Trivia
Ad blocker interference detected!
Wikia is a free-to-use site that makes money from advertising. We have a modified experience for viewers using ad blockers

Wikia is not accessible if you've made further modifications. Remove the custom ad blocker rule(s) and the page will load as expected.