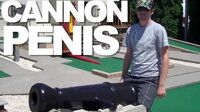 Cannon Penis is a catchphrase derived from Smosh 2nd Channel (at the time IanH) series Ian is Bored (now Smosh is Bored) (Episode 27), Cannon Penis involves taking a popular video of Ian Hecox standing behind a cannon as if it were his penis, and applying it at certain points in a video to create a quite possibly awkward moment.
Trivia
The cannon is at a mini golf course.
Source: knowyourmeme.com
Videos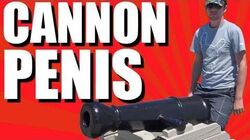 Ad blocker interference detected!
Wikia is a free-to-use site that makes money from advertising. We have a modified experience for viewers using ad blockers

Wikia is not accessible if you've made further modifications. Remove the custom ad blocker rule(s) and the page will load as expected.