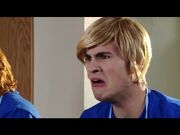 Brody is a minor character that appeared in SIRI TRIED TO KILL ME!. He is portrayed by Anthony Padilla.
The Character
Brody was one of the two main Apple geniuses in SIRI TRIED TO KILL ME!. Along with the Genius Leader, Brody attemped to locate, and destroy Siri after she went rogue only to get killed by her.
Ad blocker interference detected!
Wikia is a free-to-use site that makes money from advertising. We have a modified experience for viewers using ad blockers

Wikia is not accessible if you've made further modifications. Remove the custom ad blocker rule(s) and the page will load as expected.