Bob Roberts

Born:

Robert Roberts

Age:

Mid to Late 60's

Profession:

Instructional Videos for Dummies Saleman

Allegiance:

United States of America

Battles/wars:

Vietnam War

Portrayed by:

Ian Hecox
Robert
"
Bob
"
Roberts
 is a video salesmen a Vietnam War veteran and a "skilled" Internet user, his first appearance being "
The Internet For Dummies
" airing right after
Food Battle 2011
, and his second being "
I WAS BRAINWASHED!
"
He is played by Ian Hecox.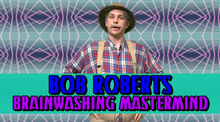 Character
Edit
Bob Roberts is a Vietnam War veteran who is now making videos to help dummies do simple stuff, such as get on the Internet (as shown in "The Internet For Dummies"). He has made other videos, including:
Goldpanning For Dummies
Duke Nukem For Dummies
Hemmoroid Treatment For Dumb F**ks
Appearances
Edit
Bob is the main character in this video. "The Internet For Dummies" is one of his How-To VHS tapes, and this time, Bob is showing the viewer how to use the Internet.
He had made another "Dummies" video for the Church of Religiotology, entitled "Brainwashing For Dummies." It shows how to brainwash people and join a cult. However, he was shot and killed by a Religiotologist because Bob commented on how stupid the name "Religiotology" sounded.
Bob teaches an old man on how to comment on a YouTube video.
Everytime Bob makes an appearance in Smosh videos, his fly is visibly down.
He had a grandson named Bob Roberts III (who's played by Anthony Padilla).
He seems to have some sort of thing for posting pictures of himself naked with fruit, as implied on The Internet For Dummies