Best Comebacks Ever
is the 32nd installment of
Lunchtime with Smosh
.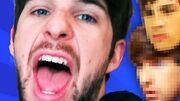 Lunchtime
Pre-video
They pass a dilapidated house that is for sale and Ian mockingly exclaims that the house is for sale and Anthony sarcastically remarks that they can finally get their dream house. The animation rolls.
In the car
Ian uses a silly voice to welcome the viewers to Lunchtime with Smosh and then begins commenting on his beard.
Ad blocker interference detected!
Wikia is a free-to-use site that makes money from advertising. We have a modified experience for viewers using ad blockers

Wikia is not accessible if you've made further modifications. Remove the custom ad blocker rule(s) and the page will load as expected.