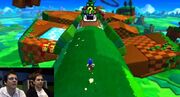 Battling Space Jam Monstars in Lost World
is the fifty-fifth installment for the 
SmoshGames
 series 
Dope! or Nope
. For this episode, they are looking at
Sonic: Lost World.
Dope
The cinematic opening
The series of launch pads
Shortcut in a level
Midair attacks
Nope
Joven's Failure
Stolen material from Mario
Overall Thoughts
Lasercorn gives it a meh because he thinks it could be good if given time to get used to the controls. Whereas Joven gives it a Nope for now.
Video
Ad blocker interference detected!
Wikia is a free-to-use site that makes money from advertising. We have a modified experience for viewers using ad blockers

Wikia is not accessible if you've made further modifications. Remove the custom ad blocker rule(s) and the page will load as expected.