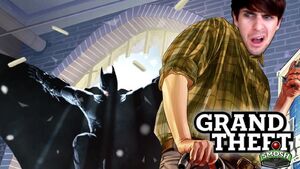 Batman in GTA5 Robbery Spree is the fourth installment in the Smosh Games series Grand Theft Smosh.
It was uploaded on October 31, 2013 on both smosh.com and YouTube.
Major events
Anthony and Ian make their debut in Grand Theft Smosh though only Anthony is present in Smosh Games studio while Ian plays online.
The goal of the episode is to rob as much money as possible during 15 minutes. They form two teams: Anthony-Sohinki and Ian-Lasercorn, while Joven plays the role of Batman (using only melee weapons) who has to administer justice to robbers.
Sohinki and Anthony reach four stars but earlier manage to lose cops more often than Ian and Lasercorn.
Probably the only person killed by Batman is Ian in the last minutes of robbery spree.
In the end, team Iancorn wins as they collect $7268, while team Anthinki collects only $5137.
When the robbery spree is finished, Anthony with Sohinki go to an NPC party (and kill everyone) while Lasercorn looks for Batman to kill him (which he eventually does as he shoots him from the car).
Video
http://www.youtube.com/watch?v=5A2A_HxGKhs